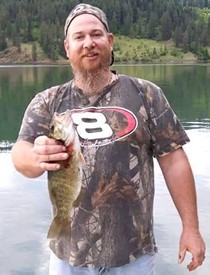 Alan J. Searle
3/8/1974 — 9/11/2021
Alan J. Searle, 47, of Lewiston, was surrounded by family when he went home to be with our Heavenly Father on Saturday, Sept. 11, 2021, after struggling from complications from COVID-19.
Alan was born March 8, 1974, in Blackfoot, Idaho, to Carol Jeppesen and Howard Hill, and was later adopted by his father, Kevin Searle. Alan grew up in Kamiah where he graduated in 1993, being highly respected throughout the community. He was active in football, scouts and swim team. He worked as a lifeguard and enjoyed steer wrestling at the rodeos. After graduation from Kamiah High School, Alan moved to Louisiana to work on the oil rigs in the Gulf of Mexico. While there, he met his first wife, Heather, and stepdaughter Morgan.
Shortly thereafter, the mountains called Alan home to Idaho, where he regained his love for camping, fishing, hunting and motorcycle riding. He became active in a yearly charity event at Christmas, called Toys for Tots. Alan rode with a group of friends to Sturgis in 2008. It was on that trip he earned the nickname "Pup" because he was the youngest rider in the group. He enjoyed other long-distance rides to such destinations as the Canadian Rockies and the Northern California Coast; to many destinations in the USA and Canada.
It was in Lewiston that he met his wife Renee Jackson, together with her daughter, Stephanie Wright. They were married July 10, 2010, in Syringa, Idaho. They created a lot of memories together, camping, going to concerts, motorcycle riding, watching children from the day care Renee ran, Nae Nae's Little Angels. Alan enjoyed gardening and, with Renee, planted beautiful flower gardens. Alan and Renee both had great senses of humor, and had many laughs together.
Alan worked with an oceangoing salvage company out of Newark, N.J., called Don Jon Marine Co. He would commute back and forth from Idaho to his second home, a salvage tug called the Atlantic Salvor. His work took him on various salvage jobs that took him to Gibraltar, through the Panama Canal, Africa and Jamaica. His company even helped with some of the events from 9/11. When the new 9/11 memorial was built, his tug boat was used to transport the Steeple that capped the memorial. Alan would be very proud knowing he died on a day that we will never forget, Sept. 11, 2021 — 20 years after our country faced a terrible attack.
Alan is survived by his stepdaughter, Stephanie Wright (Idaho); mother Carol Jeppesen (Idaho); father Kevin Searle and stepmother Cathy Searle (Idaho); brother and sister-in-law Forrest (Holley) Searle (Utah); sister Heather Searle (Idaho); sister Jennifer Hubbel (Montana); five nieces; and five nephews. Alan was preceded in death by his lovely wife, Renee Jackson Searle, who died Sept. 4, 2021, a week before her husband; aunt Kathy Pugh; grandparents Jack and Elva Jeppesen and Orin and Lucille Searle.
There will be a viewing from 5-7 p.m. Friday at Vassar-Rawls Funeral Home at 920 21st Ave., Lewiston. Funeral services will be held at 11 a.m. Saturday with another viewing starting at 10 a.m. at the LDS Church on 4440 U.S. Highway 12, Kamiah, with burial shortly after in the Kamiah Cemetery. A live Zoom broadcast will be available for those who are unable to attend. Please contact a family member to get the Zoom link and password.
Service Information
Date & Time

Saturday, September 25, 11:00 AM

Location

The Church Of Jesus Christ Of Latter Day Saints
4440 US-12
Kamiah, Idaho 83536

Get Directions

Additional Details

Viewing Friday at Vassar-Rawls Funeral Home in Lewiston 5-7:00 p.m. Viewing at church at 10:00 a.m. before the service.
Offer Condolences