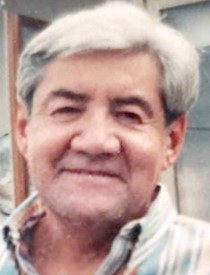 Alfred J. Amyotte
4/29/1947 — 8/4/2021
Alfred Joseph Amyotte, 74, of Clarkston, grew his wings in exchange for his suffering Wednesday, Aug. 4, 2021.
Alfred came into the world April 29, 1947, in the Turtle Mountains near St. John, N.D., to Ernestine (LaFournaise) and Joseph Amyotte. He was born with a lung defect that would affect him his entire life. He missed a lot of school growing up, causing him to repeat fourth grade for three years. Around that time, his family was informed that he would not live much longer if he remained in the frigid North Dakota climate. His family then sent him to a foster home in Phoenix where he stayed a couple of years. When he got there, he didn't want to start fourth grade again, so he told the principal that he was in fifth grade. Eventually the paperwork caught up to him and they knew he should be in fourth grade. He interviewed with the principal, and dad told him his story regarding his health conditions. That principal let him start fifth grade without ever completing the fourth grade. Two years later, he relocated back to St. John, N.D., where he would graduate from high school.
After high school, he moved to Santa Fe, N.M., where he attended and graduated from the Institute of American Indian Arts. He studied painting, drawing and jewelry making while he was there. He also met Lynn (Hyde) Rose. They married in 1969 and moved to San Jose where they had their daughter, Alfreda Amyotte. During their time together, he moved to North Dakota, Texas and eventually they settled in Lapwai. They eventually divorced but remained friends.
He married the "Love of His Life," Edna Belgarde, Oct. 24, 1994. They made their home in Clarkston with her children, Jessie Belgarde, Daniel LaRock and Aaron LaRock. He loved them like they were his own and watched them grow and start their own families.
During his work career, he was a 5500 Burroughs computer programmer in San Jose; worked for the Atron as an electrician in North Dakota; and studied auto body work in Texas with his brother Dicky. He then landed a career at Potlatch paper mill, where he started an apprenticeship as an electrician. He remained an electrician there until he retired.
Alfred enjoyed drawing, painting and playing chess and cards. His true passion was playing pool. Back in the day, you could always find him either at the Corner Pocket or the Modern West. He loved to talk strategies and techniques with his daughter and granddaughter.
Alfred is survived by his loving wife, Edna Amyotte; brothers Dicky (Norma Jean) Allery, Louis (Carol) Amyotte and Francis (Arlene) Amyotte; sister Cecelia Jim; children Alfreda (Tristan) Amyotte-Burns, Jessie (Jayson) Payton, Daniel (Amanda) LaRock, Aaron (Tina) LaRock; grandchildren Galeena Amyotte, Carter (Lake) Tannahill, Marcelle and Kenzie Bourgeau, Kianna, Austin, Kimberly, McKinley, Emmie, Daniel Jr. and Elijah LaRock; two great-grandchildren, Colson and Tommy Tannahill; and many nieces and nephews.
He was preceded in death by his parents, Joseph and Ernestine Amyotte; his sisters, MaryAnne Preston, Catherine Amyotte and Janet Baker; brothers Larry, Clarence, Jerome Amyotte and Alfred "Sonny" Allery; nephew Joseph Amyotte; daughter Sabrina Amyotte; grandchildren Tylar Duesterhoft and Arrow John LaRock; and brothers-in-law Stan Preston, Amos Jim and Clifford Baker.
A public service will be held at 1 p.m. Aug. 28 at Vassar-Rawls in Lewiston at 920 21st Ave.
Service Information
Date & Time

Saturday, August 28, 1:00 PM

Location

Vassar-Rawls Funeral Home
920-21st Avenue
Lewiston, Idaho 83501

Get Directions
Offer Condolences