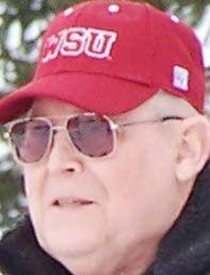 Alfred Lacy
1/31/1933 — 12/27/2021
Our beloved father, Alfred Lacy, passed away peacefully Monday, Dec. 27, 2021.
Alfred was born Jan. 31, 1933, in Breeding, Ky., to Bryan Lacy and Bertha Firkins. Growing up in Indiana as the middle child of eight, he was an active boy who would foot race his friends to and from school. He worked his first job at the age of 8, shoveling heating coal for the local grocery store. Al's blond hair earned him the affectionate nickname "Cotton," which stayed with him his entire life.
At the age of 17, Al enlisted in the U.S. Navy and took his first airplane flight to San Diego for training. Al was stationed at Tongue Point, Ore., aboard the U.S.S. Gilligan through his discharge in 1953. Following his Naval service, he continued his lifelong love of learning by attending several technical and trade schools. In 1956, Al began sailing offshore, hauling lumber from Seattle to the East Coast, traveling through the Panama Canal. Gifted with a technical mind and mechanical aptitude, he advanced quickly within the engine department and began a career sailing around the world on cargo ships. He visited countless Pacific ports over the years, working as a fireman, electrician and engineer. He often shared stories of hauling fresh lobster, avocado and pineapple from these exotic locations.
In late 1967, Al answered a call to run tugboats in Vietnam under the U.S. Merchant Marine. From 1967-70, he served as engineer on tugboats, transporting supplies for U.S. troops up and down the Mekong River in Vietnam. Following this service, Al moved to Whidbey Island, Wash., and began working for the Washington State Ferries as a chief engineer.
It was there that he met and married the love of his life, Linda, who — along with her children, Erik and Jennifer — later welcomed their son, Bryan. Al enjoyed watching the Seahawks, traveling the West Coast by motorhome, and fixing old cars. He was a generous man, who was a quiet mentor to all who were willing to learn. Al and Linda's later travels included frequent trips to Leavenworth and Lake Chelan until Linda's passing in 1998.
Al retired from the Ferry System in 2004 after 33 years of service. He moved to Lewiston the following year, and lived next door to Bryan, his wife Vicki, and their children until his passing. Al was grateful to be accepted into Vicki's extended family and appreciated taking part in their weekly gatherings and meals. Always the student, Al studied computers and tinkered with technology well into his 80s. In these later years, he especially enjoyed visits from his children, grandchildren, and nephew, Patrick "Pat" Taylor.
He was preceded in death by his wife; parents; brothers Bryce, Harold "Ham," and Fred "Doug" Lacy; and sisters Freda Coburn, Mittie Taylor, and Saundra "Sandy" Meredith. He is survived by his sister Meldora (whom he nicknamed Meldy) Sprague; children Erik Ellis (Nuntana), Jennifer Purcell (Rick), and Bryan Lacy (Vicki); grandchildren Crystal, Sinanna, Alina, Olivia, Andres, and Ari; and great-grandchildren Avery, Gavin, Lucy, and Luna.
A celebration of life for "Grandpa Al" will be held at a later date.
Offer Condolences