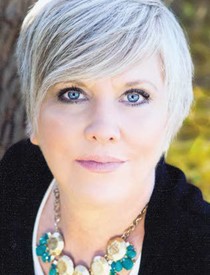 Arleen S. Jackson
10/9/1958 — 5/14/2018
Arleen S. Jackson returned to heaven Monday, May 14, 2018, after a valiant fight with cancer, surrounded by loved ones.
She was born Oct. 9, 1958, in Lewiston, to Russell and Vernie Eubank. She graduated from Lewiston High School in 1977.
Arleen married the love of her life, Destry M. Jackson, on Aug. 24, 2002, in Lewiston. They were later sealed in the Church of Jesus Christ of Latter-day Saints Temple in Spokane. She worked as a dental assistant for more than 20 years. She had the most joy when she was assisting with children. After retiring from dentistry, she opened her own day care center, The Kids' Cottage. She lovingly took care of many children throughout those years. Because of health reasons, she closed her day care and found a passion for photography, focusing on family, children and senior portraits.
Arleen was a member of the LDS Clarkston Second Ward, where she enjoyed the love and spirit of the members with whom she attended church. She had a love for home decor, both refinishing and decorating. Arleen repeatedly expressed the love and joy Destry brought her. He was her everything. For those who had contact with Arleen, they found her love, caring spirit and willingness to help anyone.
Arleen's pride and joy began with her two sons, Kobi and John. She additionally gained two stepchildren, Jeremy and Lyndi. She made it a priority to selflessly put the needs of her children before her own. As time passed, she was blessed with five grandchildren - one handsome grandson and four beautiful granddaughters. Being a grandmother was the greatest joy of her life. She made it a point to have her grandchildren spend as much time with her and, if possible, she would have them every day. As spoken by the grandchildren, "Grandma's the boss!"
Arleen is survived by her loving husband, Destry; son and daughter-in-law Kobi and Missy Donohue of Lewiston; son and daughter-in-law John and Jessica Donohue of Post Falls, Idaho; stepson Jeremy Bartz of Boise; stepdaughter Lyndi Bartz of Gresham, Ore.; grandchildren Leighton and Taylor Donohue of Lewiston, and Gracee, Alexis and Ella Donohue of Post Falls; her mother and stepfather, Vernie and Richard Haynes of Lewiston; sister Arlona Montee of Lewiston; sister Margaret Myers of Austell, Ga.; brother and sister-in-law Russ and Linda Eubank of Clarkston; brother Tom Eubank of Lewiston; brother and sister-in-law Tim and Nancy Eubank of Vancouver, Wash.; sister-in-law Leona Eubank of Spokane; stepbrother Richard Haynes of Phoenix; stepsister Bobbi Jo Haynes-Kamnitzer of Phoenix; father-in-law and mother-in-law Layel and Linda Jackson of Rexburg, Idaho; brother-in-law Danny Jackson of Rexburg; brother-in-law Damand Jackson of South Jordan, Utah; sister-in-law and brother-in-law Darakae and Donny Kauer of Rexburg; sister-in-law and brother-in-law Darcy and Jesse Brizzee of Rexburg; sister-in-law and brother-in-law Diann and Rocky Young of Idaho Falls; and numerous adored nieces and nephews.
She was preceded in death by her father, Russell Eubank; brother-in-law David Jackson; nephew Kenneth Montee; and her brother, Mike Eubank.
Funeral arrangements are being conducted by Vassar-Rawls Funeral Home in Lewiston. Funeral services will be held at 10:30 a.m. Monday, May 21, at the LDS Clarkston Church, at 1123 16th Ave., Clarkston. A family graveside service will follow at Normal Hill Cemetery in Lewiston.
Service Information
Date & Time

Monday, May 21, 10:30 AM

Location

The Church of Jesus Christ of Latter Day Saints - Clarkston Chapel
1123-16th Avenue
Clarkston, Washington 99403

Get Directions

Additional Details

Burial will follow at Normal Hill Cemetery.
Condolences
John and Marlene Bricket
We were so sorry to hear of the passing of Arlene. She fought so hard to stay with you. She was a kind and talented person. Our prayers of comfort and peace are with you
Friday, May 18, 2018 1:25 PM
Offer Condolences