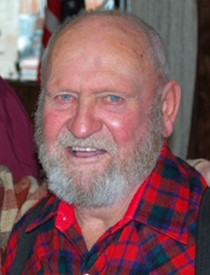 Arlie Armitage
2/9/1934 — 1/21/2018
Arlie J."Short" Armitage passed away Sunday, January 21, 2018 at Pullman Regional Hospital. He was a quiet, unassuming man and a non-judgmental listener to his many friends.
The last of eight children, he was born February 9, 1934 to Rachel Ann (Hayward) and Thomas Jefferson Armitage in Southwick, Idaho where he lived nearly all his life.
He completed eight years of school at Southwick and graduated from Kendrick High School in 1952. On April 1, 1953 he married Priscilla Benscoter and they had two children, Nick Ellis in 1956 and Tammy Lynn in 1959.
Short worked as a sawyer in the woods and farmed with his father until taking over the family farm when his father retired, later farming with his son, Nick. He was a farmer/rancher whose heart was in the woods, and he loved making firewood and posts in the winter. Always an avid reader and especially in his later years, he read boxes and bags of books supplied by his friends and family. He also served on the Southwick Cemetery board of directors for 46 years.
Arlie was preceded in death by his son, Nick in 1991; brothers Elbert, Ross, Mick, Rollin and Jay Armitage; and sisters Naomi Cuddy and Doris Mustoe. He is survived by his wife of 64 years, Priscilla; daughter Tammy and son-in-law Glenn Ford of Woodinville, WA; and granddaughters Amber Ford of Los Angeles, CA and Jenny Ford of Moscow, ID.
In lieu of flowers, memorial gifts may be made to the Juliaetta/Kendrick Ambulance Fund or your favorite charity.
A memorial service will be held Friday, Jan 26, at 11:00 a.m., at the Church of The Nazarene, 1400 E 7th St., Moscow. Please send condolences or sign the online guestbook at www.vassar-rawls.com.
Service Information
Date & Time

Friday, January 26, 11:00 AM

Location

Church of The Nazarene
1400 E 7th Street
Moscow, Idaho 83843

Get Directions
Condolences
Carl Southwick and Nikky Hites
We are so saddened by Short's passing. I have many fond memories of our families being together from childhood on. I always enjoyed Dad reminiscing of his and Arlie's time together as co-workers and good friends. Our deepest sympathy. Carl and Nikky.
Thursday, January 25, 2018 9:09 PM
Rick and Joanne Gertje
We have fond memories of Arlie! Our thoughts and prayers are with you all.
Thursday, January 25, 2018 7:29 PM
Joe(Janie) Hawker--Culdesac
Rest in peace & free of pain. I shall miss our talks around your kitchen table.
Thursday, January 25, 2018 7:15 AM
Scott and Jacque Ellig
Aunt Priscilla and family, Such a hard thing to lose such a kind and caring man. I have such great memories of family reunions and holidays and Uncle Arlie's quiet sense of humor and kind eyes. Hugs to you all. Love, Jacque & Scott
Wednesday, January 24, 2018 4:50 PM
Janet Klatt
My thoughts and prayers are with you. I'm sorry for your loss. I have many fond memories of you all from my childhood in Southwick.
Wednesday, January 24, 2018 2:46 PM
Howard and Betty Weeks
We miss and love you Priscilla. Arlene was a wonderful man and we know you're going to miss him.
Wednesday, January 24, 2018 1:27 PM
Kenny Hanks
Condolences from Montana. Always great memories of Southwick and it's wonderful people. Bless you and yours.
Wednesday, January 24, 2018 9:05 AM
Gerry Armitage and Marie
Thinking of you. He will be greatly missed.
Wednesday, January 24, 2018 8:39 AM
Offer Condolences