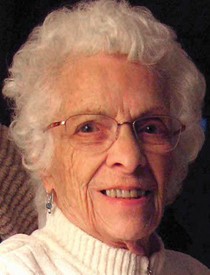 Betty J. Golla
4/3/1922 — 4/1/2018
Our beloved mother and grandmother, Betty Jean Myers Golla, passed peacefully at Wedgewood Terrace in Lewiston on Easter Sunday, April 1, 2018, just two days shy of her 96th birthday.
The second of three children, Betty was born in Lewiston on April 3, 1922, to Fay and Marcia Howell Myers. Her early childhood years were spent in Gifford until her family returned to Lewiston. Betty always had a sharp mind and was moved up to second grade soon after starting school. She graduated from Lewiston High School in 1939, and later from Lewiston Normal School, where she took pride in being part of the majorette squad.
In 1947, she married Robert Golla of Lewiston. Bob and Betty built their own home in the Lewiston Orchards, raised their son, and shared 58 years of marriage until Bob's death in 2005. She worked as an accountant for Adams Auto Sales and later for Kelly Roberts and Company.
Betty was a fun-loving gal with a generous heart who faithfully cared for her furry and feathered friends. Reading was a big part of her life, and she eventually read her way through every mystery book in three regional libraries. She enjoyed family camping and fishing adventures up the Lochsa and many fun trips with Bob to Bigfork, Mont., and the Oregon coast. Throughout her life, she played in bridge clubs and in later years she enjoyed bunco parties, earning the nickname "Bunco Betty." Her list of favorite things would have to include lobster, root beer floats and the Atlanta Braves. She leaves us a multitude of favorite family recipes and a trove of cherished memories.
Betty was preceded in death by her husband and two brothers, Leo Myers and Bob Myers. She is survived by her son, Gene (Jan) Golla of Lewiston; two grandsons, Seth (Jennifer) Golla of Spokane, and Nathan Golla of Lewiston; and two great-grandsons, Ian and August, of Spokane.
We are deeply grateful to the caregivers at Wedgewood Terrace who helped brighten her days, and for the recent care and support provided by Kindred Hospice.
At her request, there will be no service. In her honor, enjoy a good book, pet your favorite kitty cat and be thankful for each day. Together we celebrate her good, long life and we will always remember her with love and appreciation. Rest in peace, dear Betty.
Condolences
Allen Knutson
Gene,
My condolence for the loss of your mother. She was fun and thoughtful and a great friend to my mother. May your favorite memories and good times together help you through this time of sorrow and reflection. With sympathy. Allen Knutson
Sunday, April 15, 2018 6:25 PM
Offer Condolences