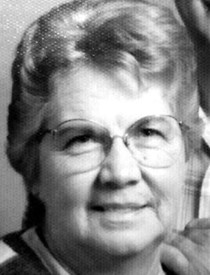 Beverly L. Adams
1/14/1934 — 2/3/2016
Beverly L. Adams passed away Wednesday, Feb. 3, 2016, in Lewiston, at the age of 82.
She was born Beverly Lorene White on Jan. 14, 1934, in Nampa, to Hazel and Forrest White. Siblings included Raymond, Kenneth, Maxine, Frankie and Junior (Richard).
Beverly married Robert Franklin Adams on Sept. 7, 1956. Bev and Frank adopted Earl (Tinker), Glenn and Earlene over the following seven years. While Frank worked as a machinist for Alph Johnson and Potlatch, Beverly held various jobs, including as a waitress at Konkolville and a cashier at Glenwood IGA. She also owned a small business, Adams Upholstery, for several years. Bev and Frank proudly raised their family near the old Adams homestead on Grangemont Road.
Bev enjoyed fishing. Prior to Dworshak Dam being built, that meant fighting the brush along Whiskey Creek for trout or fishing for steelhead on the North Fork of the Clearwater. When Dworshak Reservoir came along, a twelve-hour day chasing kokanee was not an uncommon event. She loved camping at Dent or Granddad Bridge and spending days at a time fishing with Frank and her children or anyone else she could convince to go out on the water. Bev and Frank had many great road trips in their motorhome until Frank's death in 1991.
Beverly also enjoyed water skiing, bowling, hunting, playing cards, cheering on her children or grandchildren at sporting events, and going to the casino. She held leadership positions in lodge and the Eagles.
Beverly is survived by children Earlene Reagan (Ron) in Lewiston and Glenn (Patricia) in Moscow, as well as grandchildren Greg and Kelly Pedersen, Derek and Darci Reagan, and Haley and Billy Adams; niece Carol Adams (Tim); brother-in law Jim Adams (Rose); sister-in-law Donna Ersham; and nephew Miles White.
Special thanks to Tim and Carol Adams, who spent so much time with Beverly over the past few summers, and mom's great friends Sue Duff, Wendell and Judy Stark, neighbor Betty and fishing partner Kathy Shawver. Thank you to Denice Hodges and Ali for the care, attention and patience they provided over the past couple of years, and to the amazing staff of St. Joseph's Family Hospice.
Cremation has taken place and per mom's request, no formal service is scheduled. Donations can be made in Bev's name to St. Joseph Family Hospice, P.O. Box 719, Lewiston, ID 83501.
Offer Condolences