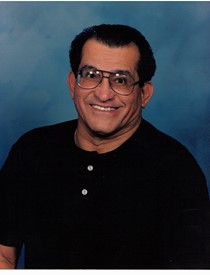 Bill G. Ringo
10/24/1934 — 6/11/2021
Bill G. Ringo, longtime Lewiston resident, passed away Friday, June 11, 2021, at the Idaho State Veterans Home Lewiston with his family by his side.
Bill was born and raised in Austin, Texas, where he graduated from Stephen F. Austin High School, participating in the student council, the dance club and the track team. After high school, he joined the United States Marine Corps where he learned many valuable life skills. Bill left Austin to go to the Northwest and made it his home. He was employed by the CTPTA in Headquarters and soon thereafter took an opportunity to work in Lewiston for Potlatch Forests Incorporated, where he found a lifelong home.
Bill brought his love for music and dancing with him to the Northwest. For many years, he took part in organizing the "25 Special" that arranged for bands to come to the valley for performances at places like Jungert's Auction House and other venues.
Bill made fatherhood his main calling. When raising his son Kyle, his great love was attending all the various athletic and school events from Little League to high school football.
Bill was active in the Jaycees, and after retirement worked at the Salvation Army soup kitchen. He never tired of helping others in need. Later in life, Bill loved being a part of the "Out to Lunch Bunch" retirees from Potlatch as well as Lewis and Clark retirees, continuing his love of social gatherings. Always the organizer, Bill would find speakers to inform and elucidate retirees.
A man of faith since his youth, Bill was a Fourth Degree member of the Knights of Columbus, and an usher and hospitality coordinator for Our Lady of Lourdes and later All Saints Catholic churches. He believed in sharing his God-given time and talents.
Bill is survived by his wife, Jackie, of Lewiston, daughter Linda Ringo-Reyna (Lupe Reyna), son Kyle Ringo (Laura Johanson) and stepsons James Kopczynski (Sheila) and Christopher Kopczynski (Jeanne Singer). Also missing him greatly are his seven grandchildren, Malik, Amanda, Lucas, Gus, Finn, Joey and Beckett, as well as his three great-grandchildren, Tarek, Amira and Jackson. Bill will also be missed by his many nieces and nephews and brothers and sisters-in-law. He was preceded in death by his mother, Maria, sister Mary Rina and granddaughter Hanna Maria.
Bill was a giver; everyone delighted in and immediately recognized a gift from Bill — from the wrapping paper to the love inside. Bill loved deeply, and that love was returned by all who knew him. The world will miss his optimistic, resourceful and "spit and polished" appearance. Today Heaven is enriched by his great love.
Services will take place at 11 a.m. Thursday at All Saints Catholic Church. Bill's favorite charity is the Salvation Army. Donations in his name will be appreciated by them.
Service Information
Date & Time

Thursday, June 24, 11:00 AM

Location

All Saints Catholic Church
3330 14th Street
Lewiston, ID 83501

Get Directions
Offer Condolences