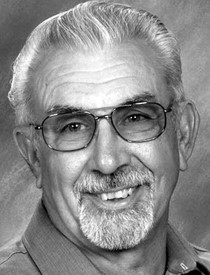 Boyd Eberhardt, Jr.
6/3/1942 — 6/3/2017
Boyd Eberhardt Jr. was born Sept. 17, 1942, in Lewiston. He passed peacefully at home, going to join the Lord on Saturday, June 3, 2017. Boyd was a kind-hearted man who was always there for anyone who needed him.
He attended grade school in Lenore and graduated from Lapwai High School in 1960. After high school, Boyd enlisted in the U.S. Army and achieved the position of Army Airborne Paratrooper Specialist 4, from 1960 to 1963. When he was discharged, he lived in New York for a year, but missing his home, returned to Idaho. He moved to Lewiston and began working at Potlatch Forests Inc. He took pride in his career and his many years of service at Potlatch.
During this time, he married Lynette Wilson in 1967, and they divorced in 1969. He married Patricia Estell in 1971. They divorced in 1973. In 1974, he married the love of his life, Regina Dasenbrock-Calene, his wife, partner and friend the rest of his life. In 2001, after 36 years of service, he retired as a senior machine tender on No. 1 paperboard machine. Boyd filled his time outdoors in his beloved Northwest for the first three years of his retirement.
To help fill his hours, in 2004 he began working part-time as a dealer exchange driver for Kendall Auto. He greatly enjoyed his work transporting vehicles everywhere from Montana to Southern California. Boyd immaculately restored a 1968 Mercury Cougar and thoroughly enjoyed showing it at local car shows, winning numerous awards. He was a longtime member of the Lewiston Catholic community, belonging to the Knights of Columbus. He also was part of the American Legion and the Lewis-Clark Wildlife Club. He retired finally in 2012, pursuing hunting, fishing and wood cutting, often with his family.
He is survived by his wife, Regina; a son, Kevin Calene; and four daughters: Teresa Stephenson, Patricia Offt, Brydget Forest and Heather Taylor. He had 11 grandchildren and one great-granddaughter. He also is survived by two sisters, Shirley Morgan and Sarita (Bob) Linkhart.
He was preceded in death by his parents, Boyd and Joyce Eberhardt; and his brother, Troy Eberhardt; as well as his brother-in-law, Dave Morgan.
A celebration of life will be held at 10:30 a.m. Wednesday at All Saints Catholic Church in Lewiston. Interment will be at 3 p.m. Wednesday at Greencreek Cemetery in Greencreek. In lieu of flowers, memorial donations may be made to All Saints Catholic Church.
Service Information
Date & Time

Wednesday, June 7, 10:30 AM

Location

All Saints Catholic Church
3330 14th Street
Lewiston, ID 83501

Get Directions

Additional Details

Burial will be at 3:00 p.m. at Greencreek Cemetery.
Offer Condolences