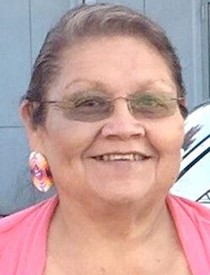 Brenda Stevens
8/5/1949 — 3/6/2023
On Monday, March 6, 2023, Brenda Lee Stevens, 73, was greeted by her son and ancestors as she passed peacefully surrounded by family. Brenda was a lifelong resident of Arrow Junction, Idaho, and a proud enrolled member of the Nez Perce Tribe. She was born Aug. 5, 1949, to Geneva and William "Bill" Stevens Jr., in Lewiston. Brenda was the third of five children.
Brenda attended Lapwai High School and graduated in 1967 with her sister, Lucinda. She was in band and played the clarinet, she also sang in the school choir and was a part of the drill team. When it came to higher learning, Brenda has been known to say that, "she earned her degree from the school of life," as her life experiences contributed to her ability to be an understanding and compassionate person.
In June 1972, Brenda and her former husband, George White Sr., welcomed a son, George "Chip" White Jr. into their lives. Brenda had a strong and loving bond with her only child. Sorrowfully, in July 1988, Chip passed away at the age of 16. It brings some comfort to know that Brenda and Chip are reunited.
Brenda was a courageous Nimiipuu woman who dedicated her life to serving her people. She was quoted in the Lewiston Morning Tribune in April 1997, "My priorities are the positive things, to bring my people's self-esteem up and help them grasp the possibilities life gives them." Brenda served on the Nez Perce Tribal Executive Committee (NPTEC) for six years from 1989-1992 and 1993-1996. Brenda was also employed at Nez Perce Tribe Fisheries, USDA Food and Nutrition Program and Nez Perce Express II. She devoted nearly 25 years at the Clearwater River Casino in various capacities until she retired in 2022. Throughout Brenda's career she made lifelong connections with people that would become family to her, she held these connections close to her heart.
It is no surprise that Brenda could drive cross country in a semi-truck, ride a motorcycle, play the catcher position on the Stevens' Farms softball team and excel in labor-intensive work. "Rod Rod," as her family called her, was independent, strong willed and wasn't afraid of difficult tasks. Brenda was skilled in beadwork - each completed piece was remarkable and made with love. She was prideful of her Appaloosa horses and loved to ride. Brenda cherished holiday dinners at her home with her family. We will miss "Chip's Spaghetti Salad," a special dish that Brenda would make in memory of her son. We will cherish the memories of Brenda's distinctive laugh as she terrorized family as they walked through the front door. Many memories were made during these gatherings.
Brenda was preceded in death by her great-grandparents, Lucy (He-Yume-Ta-Yah-Lilt) Types and Nicodemus (He-Yume-Tah-Kah-Lilt); grandparents, Charles and Agnes Ashley-Madsen, William Nicodemus Stevens Sr. and Mildred Andrews; mother and father, Geneva and Bill; sister, Sharen Stevens; and son, Chip. Brenda is survived by her siblings, Lucinda Perez, Wilhemina Stevens and William Stevens III; children, Justine Miles and Paris "Channing" Leighton; as well as numerous nieces, nephews, great-nieces and great-nephews.
Rosary will be recited at 6 p.m. on Friday, March 10, at Vassar-Rawls Funeral Home in Lewiston. The funeral service will be held at 10 a.m., Saturday, March 11, at the Pi-Nee-Waus in Lapwai.
Service Information
Date & Time

Saturday, March 11, 10:00 AM

Location

Pi Nee Waus Community Center
Corner of Main Street & Birch Avenue
Lapwai, Idaho 83540

Get Directions

Additional Details

Rosary will be recited at 6 p.m. Friday, March 10, at Vassar-Rawls Funeral Home in Lewiston.
Offer Condolences