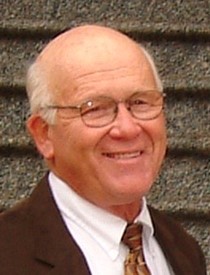 Bruce H. Blazzard
8/19/1941 — 6/8/2020
Surrounded by family who lovingly called him Dad, Daddy, Pa, Papa, Papa Blazzard, Great Papa and "Papa with a robot arm", Bruce Hopwood Blazzard, of Potlatch, Idaho, passed away peacefully and pain-free early Monday morning, June 8, 2020 at age 78.
"BHB" was born to Anna Mae Richards and James Hopwood Blazzard, August 19, 1941 in Coalville, Utah. He spent his youth with five siblings in Kamas, Utah- cutting trees, driving log trucks, and producing lumber with Blazzard Lumber Company. He graduated valedictorian from South Summit High School in 1959. Bruce was an engineer from the beginning, building contraptions like a chainsaw-powered double bicycle— taking friends for rides around town.
Bruce married Carol Ann Gobble, August 14, 1963 who he met in Indianapolis, Indiana, in the Salt Lake City LDS Temple. He graduated from the University of Utah in 1968 with a degree in chemical engineering and moved to Lewiston, Idaho with his family.
Bruce spent 34 years as a process engineer and then paper machine superintendent for Potlatch in Lewiston, retiring in 1992. He spent the remainder of his career travelling the world as a consulting engineer for paper machine builds and startups. At 60, he built a 40 feet one-man portable sawmill from spare parts of an old combine and carriage sawmill. In 2008, Bruce lost his left
hand in a farming accident, but persisted single-handedly to improvise various machines such as a new arm extension for operating his John Deere tractor.
Bruce served dutifully throughout his life in many capacities for The Church of Jesus Christ of Latter-day Saints. His greatest call was that of a missionary, which began in the Great Lakes Area Mission from 1960 to 1963, and this effort continued throughout his life. He frequently took opportunities to share his love and testimony of Jesus Christ, and was a friend and helping hand to neighbors and family in any time of need.
Bruce is survived by his wife of nearly 57 years, Carol, of Potlatch; 6 children, Lisa Annette Killian (Gordon) of Ritzville, Washington, Garth Hopwood Blazzard (Stacey) of Boise, Idaho, Jason Bruce Blazzard (Christine) of Payson, Utah, Deedra Hastings (Dennis) of Lewiston, Idaho, Jacob Ian Blazzard (Deborah) of Troy, Idaho, and Tasha Hussman (William) of Boise, Idaho. He is also survived by 29 grandchildren, and 23 great-grandchildren, with two great-grandchildren on the way. Each descendent had a connection with him due to his great ability to listen and take interest in their pursuits.
His parents, brother James Richards Blazzard, and youngest grandson Benjamin Bruce Hussman preceded him in death.
Funeral services will be held on Saturday, June 13, 2020 at 11 a.m. at Vasser-Rawls Funeral Home, 920 21st Ave, Lewiston, Idaho. Graveside services to follow at approximately 12:30 pm at
Lewis-Clark Memorial Gardens, 3521 7th St. Lewiston, Idaho. Memories and condolences may be shared with the family at vassar-rawls.com/obituaries. For those unable to attend, a live event will be posted on Vasser-Rawls Funeral Home Facebook page.
The family would like to give thanks to all who have expressed love and concern at this time.
Service Information
Date & Time

Saturday, June 13, 11:00 AM

Location

Vassar-Rawls Funeral Home
920-21st Avenue
Lewiston, Idaho 83501

Get Directions

Additional Details

Burial will follow at Lewis-Clark Memorial Gardens
Condolences
Brad and Marcie Wray
Our thoughts are with Garth and his family at this time.
Monday, June 15, 2020 8:55 PM
Gary Arndt
I am sorry to hear of the passing of President Blazzard. Simple put, he was one of the best men I ever associated with.
Sunday, June 14, 2020 10:05 AM
Louise Gordon Taylor
Dear Carol,
I am so sorry to hear of Bruce's passing. You were both wonderful leaders to me! Your love and support influenced me so much as a teenager! You are a part of my testimony of my Savior Jesus Christ! I pray you will His peace and comfort at this time!
Love Louise
Sunday, June 14, 2020 8:36 AM
Kip and Cheri Jenkins
We are so saddened by Bruce's death. He was a wonderful man, with whom we were blessed to be friends with him, Carol, and other family members. Our condolences to the Blazzard family.
Saturday, June 13, 2020 10:58 AM
Tom Whaley family
Dear Blazzards; We were sorry to hear of Bruce's passing. Our hearts go out to you. We have so many wonderful memories of Bruce and all of you. He had a positive impact on all our lives and we were blessed to know you all. Bruce truly practiced the sharing of Christ's love and led others by example and patience. Love to all and may God bless you. Love the Whaley's - Margaret, Laura, Mike and Beth
Friday, June 12, 2020 6:48 PM
Richard and Janet Shumway
Carol and family,
We were so saddened to learn of Bruce's death. He is a gem of a man who impacted our lives and so many others for good. I particularly appreciated his wisdom and kind nature when we served together in stake callings. And I was even more impressed by his equanimity and positive approach to dealing with the loss of his hand. My life is better because of my association with him. We pray that your hearts will be comforted during your temporary separation from him.
Friday, June 12, 2020 2:43 PM
Kevin Bowes
One of my best friends, do any thing for any one at any time, one of the best people I have ever know, I am lucky and grateful to have had to honer to have been his friend. He will be missed and I will never forget Bruce
Friday, June 12, 2020 2:39 PM
JIM & CHARLENE Gobble, Indiana
All of our lives were separated by thousand of miles and I considered Bruce the best Brother-in-law a person could have. He could do mechanical projects that I had difficulty undestanding.What a wonderful Christian.
Friday, June 12, 2020 12:47 PM
Ira Young
My thoughts and prayers are with you.
Thursday, June 11, 2020 10:02 PM
Wayne and Cindy Wilson
Dear Blazzard family, we are so sorry to hear of Bruce's passing. We first met him when he served in our stake high council and came by our Orofino home to visit us. We felt his tremendous spirit then and every time we were around him and we feel blessed to have known him. We pray for loving peace for your family and especially dear Carol.
Thursday, June 11, 2020 12:57 PM
Dennis Sorensen
Sorry to hear of Bro. Blazzards passing.
Wednesday, June 10, 2020 6:01 PM
Chris M
Bruce is a great memory from a difficult and challenging time in my life. He saw so much good. Truly a follower of Christ... He along with others helped me find the path and set an example of how imperfect people keep the faith. He is home and I am sure his welcome was filled with joy.
Wednesday, June 10, 2020 1:03 PM
Offer Condolences