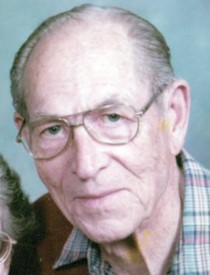 Burton L. Harrison
2/22/1923 — 12/18/2017
Burton Loren Harrison passed away Monday, Dec. 18, 2017, at Life Care Center of Lewiston.
Burton was born Feb. 22, 1923, the oldest of four children to Lyle L. and Geraldine V. Harrison, on a farm near Leland in Nez Perce County. He attended elementary school in Leland and Cameron. He graduated from Kendrick High School.
Burt attended Kinman Business School in Spokane, then spent three years in the military, two of those in Europe, and was honorably discharged. He then went to Washington State College for three years.
On June 30, 1946, he married Ann A. Isaman. They celebrated 65 years together. They had three children, Paula A., James B. and Linda J. Burt retired from Idaho Beverages after 39 years.
Burt was preceded in death by his wife, Ann; and two children, James B. and Linda J. He is survived by daughter Paula A. and her husband, Gerald Harriman; two grandchildren, Steven (with wife Candace) and Russell; six great-grandchildren; brother Boyd E. Harrison; sister L. Patricia Miller; and many special nieces and nephews.
No funeral service will be held, at his request.
"Been there, done that and can't remember" was his favorite motto.
Offer Condolences