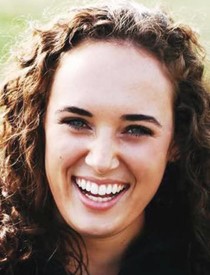 Caitlin Bosshardt Ordway
4/10/1991 — 2/24/2018
Caitlin gained her wings, surrounded by her family and friends, Saturday, Feb. 24, 2018. Married to Luke Ordway of Moscow, and daughter to Ric and Anna Bosshardt of Lewiston, she also is survived by her stepbrother, Brandon Bosshardt and family of Troy, grandparents Ric and Birdi Bosshardt, and numerous aunts, uncles and cousins throughout the Northwest.
"And now these three remain: faith, hope and love. But the greatest of these is love." - 1 Cor 13:13.
Love endures forever. Caitlin is gone from our sight but has a permanent place in our hearts with the gift we received with her physical presence, expressions of love and lasting memories. Caitlin loved to spend time outdoors with her family. As a young child, she played and fished in the local rivers and lakes and hiked, snowboarded, picked huckleberries and hunted in the mountains with her father and many family members and friends. She was an avid archer, muzzleloader and rifle hunter, learning from some of the best hunters in the Northwest, her father and uncles. Their passion for the outdoors, a family tradition passed down, was displayed in their teaching and respect for the animals they were blessed to harvest. Caitlin was always a willing participant, even when she was typically the only girl in the group. She never complained and could keep up with the best of them. Rain or snow could not keep her away from all the wonderful memories we shared.
Caitlin's love of horses at an early age introduced her to many lifelong friends and her future husband's family, with great memories of riding all over the Northwest in the U.S. Pony Club of America, competing as far away as Rainier, Wash., with her trainer and father-in-law, Tom Ordway, and her horse, Sienna. After graduating high school, she entered the U.S. Navy, specializing in their linguistics program learning Arabic, which took her to Monterey, Calif. Caitlin loved photography; she had numerous sessions with family and friends during special times in their lives. She always felt privileged to be a part of their big event, whether it be a graduation, engagement, wedding, new babies or family group shots. She always had a camera by her side and many of our own family memories were captured by her.
In 2014, while working on her degree in nursing and then elementary education, she met and fell in love with Luke Ordway. They shared a wonderful and blessed period in Caitlin's life as she was diagnosed during their courtship and began her fight with brain cancer. She remained happy throughout her life, inspirational and loving toward everyone, never without a smile or a kind word to say or an ear to listen. She married her love in July 2016 on their family farm in Princeton. They spent time together between Princeton and Moscow, making many friends where she also nannied for the Curry twins. The experience of loving and caring for their children was an honor to her and she was blessed to be able to experience a glimpse of motherhood in this way.
Caitlin's love of yoga and the benefits she experienced from practicing it before and after her recovery from cancer, and her desire to travel abroad, inspired her to pursue her training as a yoga instructor in Thailand. In 2017, Caitlin and Luke traveled to Indonesia, Bali and finally Thailand. They enjoyed their extended honeymoon tied into a 30-day intense yoga training for her. She studied and embraced her passion for this wonderful therapy for all ages and abilities. Practicing yoga daily throughout her entire adult life and sharing it with anyone who was willing to give it a go.
She followed her passions and pursued her dreams. She made the most of every minute and lived life to the fullest without regrets. Caitlin loved us well and she was loved well, so we experience great loss, but that is OK. How we shall laugh at the trouble of parting when we meet again. All is well.
A celebration of life service will be held at 11 a.m. Saturday at Cross Point Alliance Church, 1330 Powers Ave., Lewiston, with a covered-dish meal to follow.
Donations can be made in Caitlin's memory and for her love of family and children to: Young Lives of the Lewis Clark Valley, attention: Cassie Coats, 3129 Fourth St., Lewiston, ID 83501; or online at https://lcv.young
life.org, memo: tribute to Caitlin Bosshardt Ordway.
Service Information
Date & Time

Saturday, March 3, 11:00 AM

Location

CrossPoint Alliance Church
1330 Powers Avenue
Lewiston, Idaho 83501

Get Directions
Condolences
Marcia
My heart goes out to the family during this difficult time. I hope you look to one another for support in find comfort in the promises for the future. Revelation 21:4
Thursday, March 1, 2018 5:20 AM
Offer Condolences