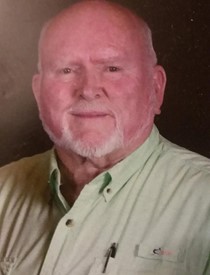 Charles E. Thompson
7/23/1941 — 5/23/2021
Charles E. "Chuck" Thompson passed away on Sunday, May 23, 2021 due to the effects of multiple strokes.
Charles was born July 23, 1941 in Twin Falls, Idaho to Charles Elmer Sipe and Ione Westfall.  He was later adopted by his stepfather, Lenard Joe Thompson, whom he loved and revered throughout his life.  The oldest of seven children, he was raised to work hard and shoulder responsibility as the family share-cropped at various locations in southern Idaho before finally homesteading their own land north of Paul, Idaho beginning in 1953. 
Charles graduated from Minico High School in 1959 and began dating the love of his life, LaRae Blacker.  After serving a mission for the Church of Jesus Christ of Latter-Day Saints in Finland from 1960-1963, he returned to southern Idaho and married LaRae on June 20, 1963.  After various employments, he joined the Idaho Department of Law Enforcement in the Weigh Station Division in 1972 and enjoyed the next 25 years in multiple capacities including patrol for the Idaho State Police.  His last four years he served as a resident officer in Troy, Idaho before ultimately retiring in 1998 after serving briefly with the Latah County Sheriff's office.  He also attended Lewis Clark State College, graduating with a degree in Criminal Justice in 1989. 
Charles was an avid proponent of Boy Scouts and served in many different roles, helping countless young men earn their Eagle Scout rank and furthering their personal development.  He was also a motorcycle enthusiast advocating for safe riding and helping foster involvement in motorcycle clubs in multiple locations.  His boyhood love of tractors and farm implements continued throughout his life, most recently as an active member of the Lewis Clark Antique Power Club.
Charles has always acknowledged that his marriage and the resulting eight children and their spouses, twenty-nine grandchildren, and three (soon to be four) great grandchildren are the crowning achievement of his life and his influence will be felt for generations due to the values that he and LaRae have exemplified.
Charles was a friend to a diverse array of individuals and focused on the positive qualities and common beliefs with others.  Whether through his church, his family, his motorcycle riding clubs or other associations, he was always willing to reach out to others to lift and support them in their journey. 
He is survived by his loving wife of nearly 58 years, his children, Tom (Carol), Liisa (Kirk) Craner, Laura (Clinton) Niswander, Terry (Monica), Troy (Christine), Lana (Zach) Reed, Tyler (Camille), and Trent (Cassie), as well as his grandchildren and great grandchildren.  Also, siblings Doug Thompson, Donna Jenkins-Semmelroth (Al), Sharie (Doug) Scott, John Thompson, Julie (Howard) Peterson, and Bonnie (Trent) Ferrin.  He was preceded in death by his parents.
Funeral arrangements will be under the direction of Vassar-Rawls Funeral Home.  The public is welcome to services on Tuesday, June 1, 2021 at 11:00AM at the Church of Jesus Christ of Latter-Day Saints at 836 Preston Ave., Lewiston.  Graveside services to follow at Lewis Clark Memorial Gardens.
Service Information
Date & Time

Tuesday, June 1, 11:00 AM

Location

The Church of Jesus Christ of Latter Day Saints - Lewiston Idaho Stake Center
836 Preston Avenue
Lewiston, Idaho 83501

Get Directions

Additional Details

Burial will follow at Lewis-Clark Memorial Gardens
Condolences
Marilyn Jarvis Wall
Oh, LaRae, I am so sorry...
My heart hurts for you.
Wednesday, June 2, 2021 3:53 PM
Max Thompson
I am sorry for your loss. Charles and I have visited on the phone a couple of times in the last few years but I regret our families have not stayed in closer contact. Stay well and give my best to your family.
Max
Tuesday, June 1, 2021 9:39 AM
Offer Condolences