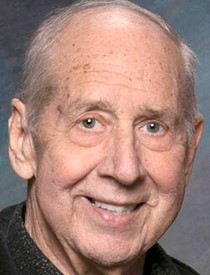 Charles L. Ridinger
4/24/1933 — 1/9/2023
Charles Linden Ridinger, of Lewiston, passed away peacefully on Monday, Jan. 9, 2023, surrounded by his family. Treating her husband with the utmost dignity and respect, Chuck's wife Jan, cared for him at home until his passing.
Chuck was born at the family homestead on April 24, 1933, in Alzada, Mont., to Frank and Lula (Howery) Ridinger. He had two brothers, Bill and Frank Jr., and a sister, Francis, who all grew up with him on the family farm. They all preceded him in death.
Chuck's early education was in a one-room schoolhouse until he finished the eighth grade. He then boarded with a family through his high school years in Belle Fourche, S.D.
Chuck became a pastor after receiving his associates degree in ministry at the Open Bible Standard Institute in Eugene, Ore. While there, he met and married Shirrel Storey in June of 1956. They pursued a brief time in ministry that started in Alzada and concluded in Onida, S.D. They had four children, Mike, Mark, Tami and Scott. Chuck and Shirrel later divorced.
Chuck and several business partners started Lewiston Tire and Ranch Supply that later became part of the Big R franchise. Chuck sold his interest in the store and later went to work for Nez Perce County. He managed the maintenance department, which was a perfect fit for his natural abilities to fix and repair anything. He worked there 22 years and retired in September of 2017, at the age of 84.
On Feb. 17, 1990, Chuck married Janetta Marks and he gained another daughter, Candace. Together they tended fruit trees and a garden, cared for honey bees and chickens, and produced a bounty to generously share with others. Chuck and Jan enjoyed hosting international students and were foster parents for several years. They would have been married 33 years this February.
Chuck's talents included playing the banjo and guitar, and he sang with the King's Heirs quartet. He was gifted with incredible woodworking skills and won several ribbons at the fair. His loves were his Lord, his extended family and friends, the Fox News Channel and Gunsmoke.
Chuck is survived by his wife Jan and children Mike, Mark (Lynn), Tami (Russ) Pierson and Scott (Rita) and Candace Wetterlund. Chuck is also survived by eight grandchildren, four great-grandchildren and several nieces and nephews who dearly loved Uncle Chuck.
A memorial service for Chuck is planned for 2 p.m. Saturday, Feb. 11, at First Nazarene Church, 1700 Eighth St., Lewiston. A meal will follow the service.
The family would like to thank Elite Hospice for their exceptional care of Chuck during this time.
In lieu of flowers, the family would like to suggest donations be made to the Children's Ministry of the First Nazarene Church.
Service Information
Date & Time

Saturday, February 11, 2:00 PM

Location

First Church of the Nazarene
1700 8th Street
Lewiston, Idaho 83501

Get Directions
Offer Condolences