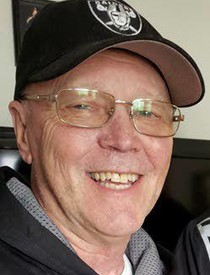 Charles Melvin Wilcoxon
9/22/1952 — 2/9/2019
Charles Melvin Wilcoxon, a resident of the Lewiston-Clarkston Valley for most of his life, finally got to take the handoff and sprint down the middle of the field, untouched, into the end zone. He died Saturday, Feb. 9, 2019, in Lewiston surrounded by family, and with his loving wife and caregiver, Jeanne DePaul, at his side to the end. He was 66 and free at long last from the cruelty of early-onset dementia.
He was born Sept. 22, 1952, at Astoria, Ore., to Melvin E. and Laura J. (Price) Wilcoxon. The family lived at Clatskanie, Ore., when he was born and moved to Clarkston when he was an infant. They moved to Walla Walla for two years and returned to Clarkston, where he finished high school. He soon moved to Lewiston and had lived there since.
He began working at Potlatch Corp. at Lewiston on his birthday in 1975 and worked in a variety of jobs there, always on the wood side.
He worked in the old sawmill at Potlatch and endured many layoffs and wage cuts during the slow times. He was a proud union member his entire time there, even after Idaho became a so-called "right-to-work" state. When the new sawmill opened, he worked there for a time before taking a job bid in the Profile Department, where he was the best damn carrier truck driver the company had ever seen.
Eventually Potlatch Corp. became Clearwater Paper, and in 2011 Clearwater Paper sold its wood products division to Idaho Forest Group, which immediately and unceremoniously fired all of the more than 250 employees, including Chuck. He never worked again.
He and Jeanne M. DePaul met while playing together on a co-ed softball team in the summer of 1988 and were married Dec. 17, 1988, in Moscow. She survives him at their Lewiston home.
He and Diane L. Wilson were married in 1976, and they had three sons before divorcing in 1987.
For more than half his life, he struggled with health problems. At age 30, he was diagnosed with Type 1 diabetes, and later endured three years of dialysis when his kidneys failed. A kidney-pancreas transplant in 2003 freed him from diabetes and dialysis but brought the new challenge of a suppressed immune system. Finally, a diagnosis of dementia several years ago was impossible to overcome.
Participating in and watching sports of all kinds were lifelong hobbies. He loved watching games live and on TV, and attended games from professional, to university and college, to high school. He always was eager to attend the youth games of his sons, as well as nieces, nephews, and children and grandchildren of his friends. In his younger years, he enjoyed playing fastpitch and slowpitch softball, and the family spent many summer weekends at softball tournaments.
When his boys were young, he spent hours outdoors with them playing Wiffle ball home run derby, and inside playing Nerf basketball.
Though he was a lifelong Oakland Raiders fan, he married a lifelong Seattle Seahawks fan, and Chuck and Jeanne found common ground through their love of sports in general. They were compatible in other ways: While he liked the dark meat, she preferred the white meat; he liked milk chocolate and she went for the dark chocolate. He always saved the pretty blue M&Ms for her.
When the boys were young, the couple enjoyed taking them on camping vacations, especially to Farragut State Park and Kalaloch Campground on the Washington Coast, and the family drove south for a wonderfully memorable vacation to Disneyland in the early 1990s. Once the kids were on their own, the couple made many trips to Seaside, Ore., where they walked the beach for miles and from which they explored Clatsop County, Ore., and Pacific County, Wash. They also spent a lot of time visiting Jeanne's family in Tacoma.
After his transplant and new lease on life, he bought an ATV and enjoyed rides with friends and family. He was overjoyed when his grandson, Isaiah, would join him for a day on the four-wheeler.
An evening of low-stakes poker with the boys was a good time, and even before retiring, he started a Friday morning breakfast gathering that continues today without him.
Rock 'n' roll was his favorite kind of music, especially Led Zeppelin, the Rolling Stones and the Beatles, but he wasn't stuck in the past, and regularly listened to and bought new music.
Chuck's favorite food group was "pastry," and he reveled in the taste of a warm, drippy cinnamon roll, but his favorite dessert was his mother's apple pie. In his final years, he loved digging into a bowl of Butterfinger ice cream in the evening. Still, not much made him happier than cutting into a medium-rare steak off the grill alongside some roasted red potatoes.
Though he was not a churchgoer in his later years, Chuck was a man who believed in God and he prayed regularly.
In his last year of life, he especially looked forward to Wednesday night dinners at the Lewiston Elks, and Friday visits from his oldest son.
His survivors include his three sons, Charles D. (Faith) Wilcoxon, Timothy D. Wilcoxon and Samuel D. Wilcoxon; a grandson, Isaiah Wilcoxon; a granddaughter, Madeylin Wilcoxon; and a great-granddaughter, Olivia Wilcoxon. All are of Clarkston. He also has three brothers, Milton (Sonja) Wilcoxon, George (Jean) Wilcoxon and James (Theresa) Wilcoxon, all of Lewiston; and three sisters, Jean Edinger of Walla Walla, Ardel Baldridge of Irrigon, Ore., and Linda (Ed) Brown of The Dalles, Ore. He also has numerous nieces, nephews, great-nieces and great-nephews. His youngest brother died shortly after birth.
Jeanne is grateful to the medical professionals who cared for Chuck over the 30 years of their marriage, including his doctors, James B. Fisher, Jose Garcia, Ajith Kumar and Patricia Brady; the 2000-03 staff at the Tri-State dialysis center; his 2003 University of Washington Medical Center transplant team in Seattle; and the nurses and aides at Life Care of Lewiston who cared for him in his final 12 days.
A memorial service is planned for early afternoon March 9 at Lewiston Elks. In the coming weeks, look for details in the Tribune's obituary page service directory.
Jeanne requests any memorials in Chuck's name be made to: Senior Nutrition Program, Lewiston Community Center, 1424 Main St., Lewiston, ID 83501. The daily, home-delivered meals they provided Chuck in his last several months at home were an invaluable help to the couple.
Vassar-Rawls Funeral Home at Lewiston is in charge of arrangements.
Service Information
Date & Time

Saturday, March 9, 12:00 PM

Additional Details

A memorial service is planned for 12:00 noon March 9 at Lewiston Elks.
Offer Condolences