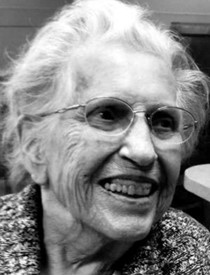 Charlotte F. Babcock
1/4/1917 — 7/10/2016
Charlotte Francis Babcock of Clarkston passed away Sunday, July 10, 2016, of age-related events. A memorial service will be held at 6 p.m. Aug. 13 at the Clarkston Seventh-day Adventist Church. The Rev. Steve Cromwell will officiate.
She was born to Lloyd and Claribel Lewis on Jan. 4, 1917, in Lincoln, Neb. Her mother died in the flu epidemic in 1918, leaving her motherless at a young age. She was a bright child and learned quickly at her stepmother's knee. She was reading the Bible at 4, graduated from eighth grade at 10 and high school at 14. When she was age appropriate, she attended Union College in Lincoln, Neb., and met and married her husband, Edward Merle Babcock, on June 7, 1941. Three children completed their family: Duane Babcock, Bonnie (Carley) and Doris (Bevins). Charlotte and Ed "Merle" were married 65 years when he passed away on Oct. 6, 2006.
Charlotte worked for the Internal Revenue Service for many years, working her way up to assistant branch chief. She and her late husband were avid motorcyclists, beginning early on in their marriage, and even riding tandem on a Silver Wing Honda at the age of 76 across the country. Upon retirement, they were full-time camping and traveling with their travel-trailer and camper. She was a devoted member of the Seventh-day Adventist Church. Charlotte was a lover of music. She learned to play piano in her 20s but never had the time to practice, so she took lessons again at 89-91 years of age. She did various crafts, making macrame items, large and small, beaded tables, needlepoint and embroidery. Whatever she did, she did to perfection. She was loved by those around her - caregivers and friends alike. Her big warm smile was her trademark wherever she went. She was six months short of reaching her 100th birthday.
Charlotte is survived by a sister, Laurel Thorp of Auburn, Wash.; a brother, Glen Lewis of Calimesa, Calif.; two daughters, Doris Bevins of Clarkston and Bonnie Carley of Kapaau, Hawaii; nine grandchildren; 18 great-grandchildren; and five great-great-grandchildren.
She was preceded in death by her husband, Edward Merle Babcock; a son, Duane Frank Babcock; a sister, Marjorie Lickert; and two brothers, Wayne and Gordon Lewis.
Service Information
Date & Time

Saturday, August 13, 6:00 PM

Location

Seventh-Day Adventist Church
2673-13th Street
Clarkston, Washington 99403

Get Directions
Offer Condolences