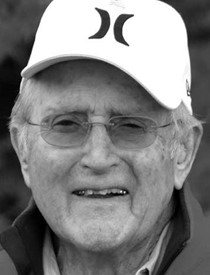 Clarence A. Hardin, Jr.
12/5/1933 — 7/26/2017
Clarence A. Hardin Jr. left the evening of Wednesday, July 26, 2017, on the best fishing trip ever. We know he has found an excellent fishing hole and is truly catching that big fish. He was always known as Junior and was born in 1933, during the Great Depression, in White Bird to Clarence and Avo Hardin. As a young boy he was taught to work hard and be resourceful, a trait he passed down to his own children. One of his first jobs was herding sheep at age 12. He graduated from Grangeville in 1952 and soon joined the U.S. Navy. In the Navy, he was an air traffic controller and spent time in the South Pacific and at Virginia Beach, Va.
Soon after joining the Navy, he met Beverly Knocke on a blind date. This almost didn't happen because Beverly asked her little sister, Mary, to go and look at Junior and report back. Mary said he was in a Navy uniform and had a mustache and that didn't fit well for Beverly, so she asked Mary to take a second look. Mary came back and said he didn't have a mustache, so they went on their blind date. They were married Aug. 7, 1955, and ended up in Virginia Beach, where their first son, Jeff, was born.
After his discharge from the Navy, they moved to Grangeville, where his other two sons, Brent and Noel, were born. The family moved to Clarkston in 1965, and Junior started his own excavation business. He was known for years as one of the best backhoe operators in the area. Junior closed his business and began working for Asotin County as the road supervisor for a few years. His daughter, Lisa, joined the family during that same time.
After leaving the Asotin County Road Department, he obtained a rural mail contract, which his wife, Beverly, operated. He started working at one of his favorite jobs as road boss for Guy Bennett Lumber Co. He enjoyed spending time in the woods, building roads and making many friends. After retiring from Bennett Lumber Co. he got another mail contract delivering bulk mail in Lewiston, Clarkston and Asotin.
After retiring from the many years of mail contracting, he just wanted to enjoy the family. Junior was a big man with a big laugh and a big heart. Family and friends were very important to him, and he would do anything for anybody. He loved to make people laugh or chuckle. If he had not seen you in awhile, he wanted to know how the hell you had been doing, or he would holler: "Come here and let me snap a knot in your tail!"
He especially loved the outdoors, hunting, fishing and camping. He spent many hours fishing for steelhead on the Clearwater River or trout fishing in a nearby stream, and would usually outfish anyone he was with.
He also spent many hours in his shop making wooden gifts for many family members, from a baby cradle, a rocking horse to picture frames. This was a skill that was passed down from his father. Not only a woodworker, Junior loved to bake and cook with sourdough. He spent many hours making sourdough bread, waffles and pancakes, mostly on weekends or whatever the occasion.
Junior's wife of almost 62 years, Beverly, resides in their home in Clarkston. He is survived by sons Jeff (Laurel), Brent (Brenda) and Noel (Rebecca) and daughter Lisa (Dave) Johnson, and his brother, Jim. He has 14 grandchildren; four great-grandchildren and one on the way; as well as sisters-in-law Mary (Rich) Barker and Ada Knocke; and many other family members around the region.
A service for Junior will be held at 10 a.m. Aug. 14, at Vassar-Rawls Funeral Home in Lewiston, with a burial at Lewis-Clark Memorial Gardens. This will be followed by a luncheon at the Church of Jesus Christ of Latter-day Saints, at 3810 16th St., in Lewiston.
In lieu of flowers, please donate to the Lewis-Clark Animal Shelter or a charity of your choice.
Junior enjoyed cowboy poet Baxter Black. If you get a chance, read "Take Care of Yer Friends" in his honor. This was one of his favorites. The poem closes with: "A hug or shake which ever seems right/ is the high point of givin' and I'll tell you tonight/ all the worldly riches and tributes of men/ can't hold a candle to the worth of a friend."
And in the words of Junior, as he would say his goodbyes:
"I'm glad you got to see me!"
Service Information
Date & Time

Monday, August 14, 10:00 AM

Location

Vassar-Rawls Funeral Home
920-21st Avenue
Lewiston, Idaho 83501

Get Directions

Additional Details

Burial will follow at Lewis-Clark Memorial Gardens.
Condolences
Bernadette and Tim
Beverly and all your families we would like to send our thoughts and prayers to each of you. Hugs for all of you in your loss. Junior will be missed by lots of people. So glad we were able to know him.
Tuesday, August 8, 2017 11:36 AM
Offer Condolences