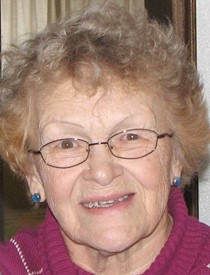 Clarice M. Moore
10/13/1928 — 5/24/2021
Clarice M. Moore passed away peacefully Monday, May 24, 2021, at Prestige Care and Rehabilitation – The Orchards. She was 92 years old.
Clarice Marie Lucas was born Oct. 13, 1928, in Healy, Kan., to the cattle ranching family of Russell and Minnie Lucas. In 1937, in the midst of the Depression and Dust Bowl, the Lucas family migrated to Idaho, first living in Bonners Ferry for a short period and then moving to the Nezperce area. Clarice attended Nezperce High School and later Orofino High School when the family moved to their ranch in Harmony Heights, Orofino. She married Lloyd Moore, of Orofino, in 1946 and gave birth to two sons, Martin L. Moore and John B. Moore (deceased). Her third child died at birth.
Clarice moved to the Lewiston area in the early 1960s. Her passions were music and bridge. She sang with the LCSC Concert Chorus as well as Stuart Churchill's Chorale. She was vice president of the Community Concert Association, and later VP of the Washington State Symphony Valley League. In her spare time, she acquired B.S. and B.A. degrees at Lewis-Clark State College.
A longtime devotee to the game of bridge, Clarice loved her weekly bridge gatherings in both Lewiston and Clarkston, and taught bridge to a number of people.
She is survived by her sister, Mary Filkins, of Allyn, Wash.; son Martin L. Moore, of West Linn, Ore.; grandchildren Travis Moore, of Clarkston, Ann Moore, in Oregon, Adam Moore, of Victoria, B.C., Dawn Wetmore, of California, and Colleen Presler, in Idaho. She is also survived by many great-grandchildren.
A loving parent and good friend, always ready with a bit of advice, Clarice will be missed by all.
Special thanks to the staff at Prestige Care for taking such good care of Clarice in her final year.
Per her wishes, her ashes will be scattered.
Offer Condolences