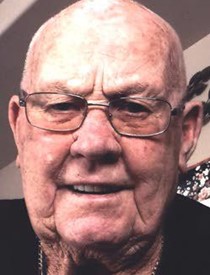 Clifford A. "Tootie" Byers
1/20/1925 — 6/27/2019
Clifford "Tootie" Byers went to the big sawmill in the sky at 10:30 p.m Thursday, June 27, 2019. He was surrounded by his family when he left the Idaho State Veterans Home in Lewiston for his last trip at 94 years old. The caring staff and family bid a final farewell as he passed through the halls draped in an American flag. After a military farewell salute and then taps with flags waving, the World War II veteran and hero was at peace.
Tootie lived his life fully. He worked extremely hard, but he also played just as hard. There are so many stories that could be told of his escapades. Much of his drive in life was motivated by his experiences during the war. He was on a small aircraft carrier that was torpedoed several times in the Pacific Theater. When Tootie jumped off that ship, at the end of the war, it was as if he was determined to live life for all of his men that had lost theirs.
Born Jan. 20, 1925, in Moscow, he grew up in the Viola area with his mother, Fanny (Cuthbert), his father, John, and his sister, Shirley (Hillestad). He developed a love for the woods by working with his dad and his team of workhorses. Tinkering on any type of machinery was one of his favorite hobbies, the bigger, the better. After retirement, he spent many hours bringing life back to old steam engines, one of which used to power the city of Troy in the early 1900s. Tootie also rebuilt an airboat just because he thought it would be fun.
He married I. Vivian Dial shortly after the war. They were married several years and had two daughters, Bonnie and Becky. They also helped raise Bonnie's daughter, Lavonne, for many years.
After that marriage was dissolved, he married Lynette Deschamp in October of 1983. They traveled side by side on many adventures until his death. He helped her raise her two children, Shelly and Craig Knott, who considered him much more than just a stepfather.
After many years of living in Potlatch, on Coeur d'Alene Lake and in Yuma, Ariz., they settled in Lewiston. He was a lifetime member of the Veterans of Foreign Wars and spent many Wednesday lunches with the "CRS boys."
He was preceded in death by his sister, Shirley, and his grandson, Garrett Thiel. Those left behind are his wife, Lynette; his daughters, Becky (Mark) Lawrence and Bonnie (Ed) Griffith; bonus daughter Shelly (Marc) Thiel and son Craig (Kathy), their spouses and children (Lavonne, Erin, Mandy, Levi, Cade and Jailyn) and several great-grandchildren and nephews and nieces, plus his brother-in-law, Doug (Cindy) Deschamp.
Because of his warm and gregarious personality, everyone adored him.
There will be no service or donations. Just take a page from his book and get to "injoyin" your life to the fullest.
Offer Condolences