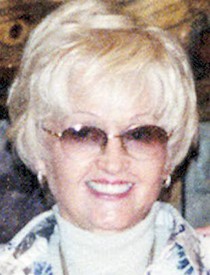 Clo Ann McNall
7/18/1933 — 8/11/2019
Clo Ann (Wilkins) McNall was born to a life of adventure at midnight on a hot summer night July 18, 1933, in Goodland, Kan., to Cecil and Alice (Haller) Wilkins. From that time on, she was a confirmed "night owl." It was in Goodland where she became a born-again Christian at the age of 6, and continued on this journey until her passing.
She died Sunday, Aug. 11, 2019, in Orofino. She was 86. For many, she will be remembered by her column "From this Chair," which appeared weekly for many years in the Clearwater Tribune.
Clo Ann started her adventurous, challenging life as the middle child and only girl of three children. She laughed and joked her way through life in the good times and the bad times. She was blessed with an everlasting faith in God and his power to care for her and her children.
Clo Ann, whose name was the object of many humorous misspellings and mispronunciations, was taken from a True Story magazine about a fictitious Southern belle. She always said her favorite misspelled name was on a letter addressed to her as Mr. Cleann McNazz. Another of her favorites was Cloann McNutt.
She received her formal education in Kansas and Colorado, moving to Colorado Springs at the age of 14 to attend school, and was the valedictorian of her class. Clo Ann learned to play the piano, organ and accordion during her young years, and sang in a high school quartet. She had her first newspaper job in 1951 at age 18, working for her father at the Gazette Telegraph in Colorado Springs, Colo.
Clo Ann married John McNall on Oct. 19, 1951, in Goodland, Kan. Her three children were born to this union. The marriage ended in divorce in 1984. In 1954, her parents purchased a newspaper, the Plainsman, in Hugo, Colo., for her and her older brother, Bryce.
Clo Ann's three children were born in Hugo and, in 1963, the paper was sold and Clo Ann and her family moved to Chewelah, Wash., where they purchased the Chewelah Independent. Bryce and his family relocated to Mitchell, Neb., where they purchased a newspaper. The two families kept in close contact down through the years. In 1969, the McNalls purchased the Clearwater Tribune from Bob and Vera Werner. Clo Ann became sole owner of the paper in 1984 with the assistance of her daughter, Marcie (McNall) Stanton.
Clo Ann was the second woman publisher in Idaho. After acquiring the Clearwater Tribune, she converted the paper to desktop publishing, making it the first weekly in Idaho to make that move. Clo Ann served on the board of directors for the Idaho Newspaper Association.
During her lifetime, she served on the boards of the various churches she attended and was active in the music programs. Clo Ann married Charlie Pottenger of Lewiston on Sept. 26, 2008, in the Orofino City Park. She lovingly referred to him as the "Phantom," as she said, "After being single for 25 years, Charlie appeared out of nowhere and we were married two years later."
Her three children, Lynette, Diane and Marcie, and their children, Ashley, Cody, Lacey and Bonney, were the love of her life. She cherished every day with them and said the best times of her life were those spent with her family.
Offer Condolences