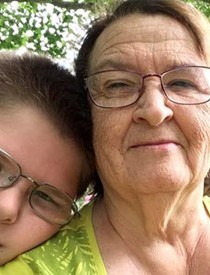 Connie F. Adams
12/19/1952 — 9/9/2018
Connie Fay Adams, 65, was born Dec. 19, 1952, and was laid to rest Sunday, Sept. 9, 2018, at Royal Plaza in Lewiston.
Mom was born in Moscow to Bill and Ruth Adams and grew up in Orofino, where she attended school. Yes, mom was very proud of being an Orofino Maniac.
Connie loved to travel and got to see many places overseas and here in the states.
Mom loved to help others in need. She had a special love for her grandkids and was a huge part of their lives. Mom lived for those boys with all her heart and soul.
Mom fought a long battle for 34 years with nonalcoholic cirrhosis of the liver to see her grandkids grow: Michael, Mason and Marcellus and her five boys, as she called them, grandkids David, Damyan, Caden, Devin and Aiden. Her love for these grandkids will never be forgotten.
Mom was preceded in death by her dad, Bill Adams; mom Ruth Adams; sister Joy Witlock; grandson Mason Qualls; and nephew Roger Chase.
As mom asked, her way, please.
Offer Condolences