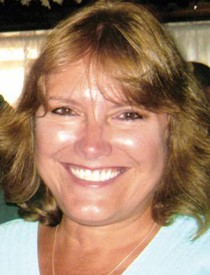 Connie L. Andrews
5/6/1952 — 9/17/2017
Connie Lynne Andrews, 65, passed away the morning of Sunday, Sept. 17, 2017, at her home, after a long battle with esophageal cancer.
Connie was born May 6, 1952, to Clarence M. "Bud" Lugar and Wanda A. Lugar, of Lewiston, the second of three children. She grew up with two brothers, Mark and Larry. As a child, she enjoyed bicycling and hiking through the fields of downtown Lewiston.
When she graduated high school in 1970, she went to work for Omark in metal parts. She later began her dedicated career at Potlatch Corp. in 1980 as a log marketing data administrator. She worked there for 33 years until she retired.
In March of 1982, Connie married Dale R. Yochum. They had their only child, Wendy Yochum, in 1984. They later divorced.
Connie reunited with the love of her life, Richard "Dick" Andrews, in 2008, and they were married Sept. 19, 2009. For the past 10 years, they have enjoyed camping, four-wheeling and traveling to Alaska, Belize, the Oregon Coast and many other places. Most of all, they loved their time together at home in the garage or at "the Barn" in Waha, entertaining family and friends. Dick always referred to Connie as his "sweetie" and lovingly took great care of her in sickness and in health.
Connie loved animals, especially her puppies. They were her companions and anywhere Connie was, she knew they were following close behind. She had a passion for classic cars, especially Cudas (Plymouth Barracudas). Hot August Nights was one of their favorite times of the year. You would find them strolling along Main Street for the Show and Shine and later at the concerts at Pioneer Park.
Connie was a devoted and loving wife and mother, always putting other people's needs ahead of her own. She was very proud of her family, and loved the holidays and family get-togethers. Her No. 1 priority has always been to her daughter and to her grandkids, making sure they were taken care of. She wouldn't hesitate to watch her grandkids, even when she didn't feel good.
Connie was the most selfless, most caring and loving person anyone could ever meet. Throughout her five-year battle with cancer, she never gave up hope, she never complained, and she never let the pain show through her beautiful smile. Connie was a walking angel among us and words cannot describe how much she will be missed.
Connie is survived by her loving husband, Richard "Dick," at their home in Lewiston; daughter Wendy Yochum (Trent Hollingsworth); grandchildren Tatum and Lily of Lewiston; and brothers Mark Lugar (Diane) of Spokane Valley, Wash., and Larry Lugar (Carol) of Boise. Connie was preceded in death by her parents, Clarence M. "Bud" and Wanda A. Lugar.
There will be a viewing from 4 to 6 p.m. today at Vassar-Rawls Funeral Home.
The graveside service will be held at 2:30 p.m. Friday at Lewis-Clark Memorial Gardens, 3521 Seventh St., Lewiston. A celebration of Connie's life will take place at the Andrews' home after the service, at 3425 Sixth St., Lewiston.
Service Information
Date & Time

Friday, September 22, 2:30 PM

Location

Lewis-Clark Memorial Gardens
3521-7th Street
Lewiston, Idaho 83501

Get Directions

Additional Details

Viewing will be on Thursday 4-6 p.m. at the funeral home.
Offer Condolences