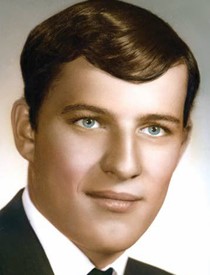 Dale R. Yochum
4/13/1952 — 12/20/2017
Dale Richard Yochum, 65, passed away Wednesday, Dec. 20, 2017, at Prestige Care in Clarkston from complications due to cancer.
Dale was born April 13, 1952, on Easter Day. He was the middle of three children to Ronald and Edna "Maxine" Yochum. Dale grew up and worked on the family ranch at Peola until he graduated from Clarkston High School in 1970.
After graduation, he worked in construction with his father and brother Lanny. He later worked as an ironworker in Louisiana until 1984.
Dale married Connie L. Lugar in 1982. They had their only child, Wendy Yochum, in 1984. They later divorced.
Dale enjoyed the outdoors. Fishing and hunting were some of his hobbies. Dale loved to go to the mountains with his friends to scout for deer and go mushroom hunting. He also enjoyed gardening, especially growing tomatoes. Dale was a handyman. He was always building a fire or working on a project around the house. He also loved watching sports, especially baseball and NASCAR.
Dale was a very dedicated and loving father. He always made sure to pick his daughter up every day, and to be at every field trip, softball game and school function. He also loved spending time with his grandchildren, even when he didn't feel good.
We will miss his beautiful, blue eyes and what a caring and generous person he was.
Survivors include his daughter, Wendy Yochum; grandchildren Tatum and Lily Hollingsworth of Lewiston; sister Kathy Edmonson; and nephew Blake Mellom.
He was preceded in death by grandparents Ben and Carrie Gibbs; parents Ronald and Edna Yochum; and brother Lanny Yochum.
A celebration of life will be held at a later date.
Offer Condolences