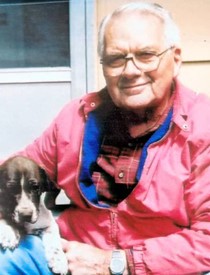 Darrell Von Bargen
1/31/1931 — 4/4/2019
Darrell von Bargen died Thursday, April 4, 2019, at his home in Lewiston. He was born on the beautiful Camas Prairie Jan. 3, 1931, to Clyde and Blanche (Blackburn) von Bargen. He shared his childhood on the family farm with his brother, Sam von Bargen and his sister, Naomi (von Bargen) Webb. Darrell attended school in Cottonwood.
After high school, he joined the U.S. Army and served in Korea. He married Carole Forsmann in 1951 and started his family. He loved hunting and fishing and proudly kept his family supplied with game. But his greatest joy was flying. He was a skilled pilot and was fascinated by all things aviation. He was a master repairer/rebuilder. If you couldn't fix it, you took it to Darrell and he worked his magic. He instilled in us the importance of stewardship for our belongings. He had a quick wit that brought laughter to all who knew him.
Darrell is survived by two sons, Patrick Kroboth of San Francisco and Eric von Bargen of Walla Walla; two daughters, Lisa (Danny) Radakovich of Lewiston and Noelle von Bargen (Steve Lyons) of Laguna Beach, Calif. His family also includes four grandchildren, Jeff (Katie) von Bargen, Nicholas (Jessica) Radakovich, Carolyn Radakovich and Kathryn Radakovich. One great-grandchild, Avery von Bargen, also survives.
Darrell enjoyed 50 years with his companion and closest friend, Middy von Bargen. They looked after each as they traveled into old age.
Per Darrell's wishes, he was cremated, and no funeral service is planned. Rest in peace Dad. You taught us well. We carry you with us.
Offer Condolences