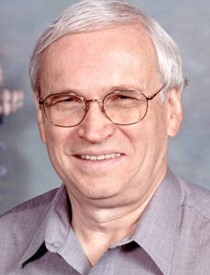 David Peter Fuchs
6/27/1941 — 2/8/2022
David Peter Fuchs, 80, of Lewiston, died because of pancreatic cancer on Tuesday, Feb. 8, 2022. He died peacefully at his home with his loving wife and family by his side.
He was born to Rosa G. (Lauby) Fuchs and Anthony J. Fuchs June 27, 1941, in Nezperce. Dave was the fourth of six children: John, Paul, Arnie, David, Marietta (Wright) and Ernie Fuchs. They grew up on their homestead farm in Nezperce. David attended St. Martin's College in Lacey, Wash., on a basketball scholarship and graduated with a Bachelor of Arts degree in accounting in 1963.
He married Donna D. Wassmuth Sept. 5, 1964, at St. Anthony's Catholic Church in Greencreek. From 1964-65 David worked as a teaching assistant in Pullman at Washington State University while finishing his master's degree. He earned his Master of Business & Science degree from WSU in 1965.
David worked as a CPA at Peat Marwick & Mitchell accounting firm in Portland, Ore. Moving to Lewiston in Feb. 1971, he then worked for Potlatch White House. He later worked for Poe Asphalt, Steelman-Duff, and Herco Asphalt, finishing his career at Jurgens & Co, from 2002-20.
David was a member of Our Lady of Lourdes Catholic Church and served as a Charismatic Renewal team leader in the 1980s. He was a Full Gospel member. He also served at the Lewiston Healing Rooms on their prayer team from 2004-20. He was a member of River City Church in Lewiston.
Jesus Christ was No. 1 in his life. He always started his day early in prayer and scripture.
David coached his children's basketball teams when they were young. He was instrumental in helping create the Girls Club which is now the Boys and Girls Club. David continued playing city league basketball into his 50s. He then played racquetball into his early 70s. You could find him at 5 o'clock in the morning at AdCope playing racquetball with some of his close friends. Backyard swimming and barbecues with his family was his favorite activity. He loved those grandkids.
Survivors include his wife of 56 years, Donna D. Wassmuth Fuchs, of Lewiston; son Thomas L. Fuchs (Trina), of Lewiston; daughter Jamie M. Matkowski (Michael), of Richland; son David Clinton Fuchs (Crystal), of Lewiston; daughter Jeannette R. Walling (Robert), of Clarkston; bonus son James J. Turner (Jeanne), of Lebanon, Ore.; grandchildren Kyle Fuchs, Allison Fuchs, Mikaela Matkowski, Jaren Matkowski, Angela Fuchs, Kloie Fuchs, Faith Fuchs, Christian Walling; great-grandson Carter Munden; bonus grandchildren Anthony Renteria, Jordan Delema, Andrea Rogers, Brittani Beauchamp, Melissa Svancara, Antani Walling, and Lacey and Blake Slocum.
He was preceded in death by his mother, Rosa G. (Lauby) Fuchs and father, Anthony J. Fuchs.
A funeral will be at 10:30 a.m. Feb. 26 at River City Church, 2102 Eighth St., Lewiston. Pastor Hugh Laybourn of River City Church will officiate.
If you would like to bring a dish, for the lunch that follows, please contact the church office at (208) 746-7101 to coordinate.
Memorial donations can go to River City Church-Youth Fusion. Vassar-Rawls Funeral Home is in charge of arrangements.
Many thanks to all who have reached out to the family.
Service Information
Date & Time

Saturday, February 26, 10:30 AM

Additional Details

A funeral will be at 10:30 a.m. Feb. 26 at River City Church, 2102 Eighth St., Lewiston. Pastor Hugh Laybourn of River City Church will officiate.
Offer Condolences