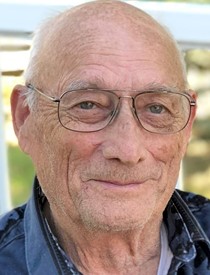 Donald N. McLeod
7/5/1939 — 7/26/2020
On Sunday, July 26, 2020, the fields and pastures of Heaven gained an amazing, caring farmer and rancher to watch over them. Don McLeod will be making sure the fences are mended and the fields are completed before it rains.
Donald Norman McLeod was welcomed into this world July 5, 1939, in Kamiah, to proud parents Berta Gibler McLeod and Donald McLeod. He was raised on the family farm in Nezperce with his five siblings. Don grew up helping in the fields. He attended and graduated from Nezperce High School. Don was a graduate of the University of Idaho, with a degree in agriculture education. He taught for one year in Zillah, Wash., and then returned to assist with running the family farm.
He farmed with his brother, Scott, as McLeod Brother Farms for many years. His children will tell you that he was fluent in farmer sign language from the seat of a combine or tractor. They were never quite sure what all those gestures meant, but they were absolutely sure they were supposed to do something correctly and quickly when they got the signals.
Don married his high school sweetheart, LaMoyne Lyda McLeod, on Aug. 31, 1961. They enjoyed 58 years of marriage. Together they were a great team on the farm, assisting each other to complete the chores. They raised their three children together, emphasizing the value of working hard on what needed to be done.
Don worked many long hours building fences and chasing cows. He enjoyed raising and caring for his livestock. His idea of a vacation was a trip to a bull sale in Montana. A lesson his children learned from him about moving cows was that you could move an entire herd if you wiggled your index finger at just the right time. (Something none of his children quite mastered, much to his dismay.)
Don was an avid reader of the history of the Pacific Northwest. His knowledge of the history of the land and the people who had lived in the area was extensive. He enjoyed visiting and sharing his knowledge about what he knew of the area. Don never met a stranger. As a matter of fact, through his unique questioning ability, he could always make a connection. He also loved watching and attending sporting events of his children and grandchildren. He was always full of advice on how to get better.
He was a proud father and grandfather. He is survived by his wife, LaMoyne; his children, Jill (Mike) Ralstin, Brent (Mary) McLeod and Jennifer (Dave) Gomez; his grandchildren, Brittney, Conner, Mary, Megan, Alyssa, Austin, Dylan, Sydney and Wes; his siblings, Jean, Joan, Dot and Scott. He is also survived by many cherished cousins, nieces and nephews. Many of the nephews and younger cousins were his hard-working hired hands for the summer. He was preceded in death by his parents and his sister, Jane.
The family wishes to express their thanks to the amazing staff at Pleasant Valley and Serenity Place in Lewiston for the gentle, kind care they provided Don.
The family plans a private family gathering to place Don's ashes at some of his favorite locations on the ranch and farm.
Memorial contributions may be made to the Nezperce Ambulance Fund, P.O. Box 164, Nezperce, ID 83543. Vassar-Rawls Funeral Home of Lewiston is assisting the family with plans.
Offer Condolences