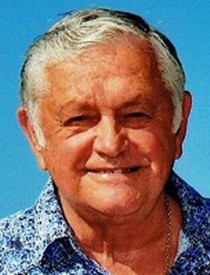 Donald Schlueter
7/11/1938 — 12/24/2017
The story of Donald Henry Schlueter began on July 11, 1938, in the Schlueter Family home in Genesee, ID when he was born to Henry Matthew Schlueter and Mabel Catherine (Tierney) Schlueter. Don (or "Hondo" as he would later be called by his son and friends), would become a big brother to Patricia a couple of years later; husband to Linda in 1963; father to Skyler in 1964; father-in-law to Sande and grandfather to Ryelee, Krista, and Geoffrey in later years. While he left us on December 24, 2017, his story continues on through his family.
Don was an "ag" guy! Born and raised on the farm, he was heavily involved in 4H growing up and won trips to Chicago, and Washington, DC. He graduated from Genesee High School in 1956 and after he graduated from the University of Idaho, went on to be an Ag Education teacher in Zillah, WA, where he met Linda Everett. Don and Linda moved back to Genesee in 1963 and Don joined his father working on the family farm, where he continued to live and work. He also enjoyed the occasional substitute teaching job in Genesee, Colton, Uniontown, Troy, and other community schools. Over the years, Don served as the President of the Western Agricultural Services in Touchet, WA; on the Theta Chi Board of Directors for the University of Idaho Chapter; as the former President of the Western Snowmobile Racing Association; and was a lifetime member of the Knights of Columbus.
Don was an interesting guy with interesting hobbies, a wicked sense of humor, and a sly grin. He loved learning new things, especially in the area of technology and science. He loved to travel and visited some amazing places throughout the years with Linda, his family, and some really good friends. He loved his house in Mexico – and the fresh shrimp and churros from the local farmers market. He enjoyed traveling to and attending auctions, sometimes buying things he didn't really need! He loved going to car shows and really enjoyed showing off his 1936 Cord replica. When no one was looking, he really loved hot dogs, KFC chicken buckets, and online shopping!!
Of all of Don's hobbies, flying would be the one he most loved and enjoyed. He was rated as a commercial pilot with ratings in seaplanes and gliders, even spending time as a commercial island hopper pilot in Hawaii for a time. He performed in air shows over the years in his Hispano HA-200 Saeta. He owned and operated Schlueter Ranch Aviation for many years, bringing aerial applications to agricultural in Genesee and the Palouse. Don's last plane was his 1943 Grumman G-44 Widgeon seaplane and one of his last flights in the Widgeon was with his son Skyler as his co-pilot on a trip to Priest Lake and on to the Arlington Air Show.
Don is survived by his wife, Linda Schlueter of Genesee; his son, Skyler (Sande) Schlueter of Genesee; his grandchildren, Ryelee Schlueter of Moscow, Geoffrey Leediker of Beaverton, Oregon; and Krista Harris of Houston, Texas; his sister Patricia Clyde of Moscow; his nephews, Scott Clyde of Moscow; Ken (Gay Lynn) Clyde of Moscow; and Steve Clyde of Genesee; and numerous nieces and nephews, most of which reside throughout the Pacific Northwest.
He was preceded in death by his father, Henry; his mother, Mabel; and his brother-in-law, Robert Clyde.
In lieu of flowers, memorial donations can be made to the Genesee Ambulance Fund (and to whom the family wishes to express a special thanks for their service) or to the Genesee Education Foundation.
To honor the lifelong Catholic, a rosary will be said at 10:30 a.m., followed by mass at 11:00 a.m. on Friday, January 5, 2018 at St. Mary's Catholic Church in Genesee.
Arrangements are being managed by Vassar-Rawls Funeral Home.
Service Information
Date & Time

Friday, January 5, 10:30 AM

Location

St. Mary's Catholic Church
138 N. Jackson Street
Genesee , Idaho 83832

Get Directions
Condolences
Dean Slaybaugh
We are sorry for your family's grief. Don will be missed in our hearts and minds. God Bless and Keep your family in this time of sorrow. Love the Slaybaugh Family
Friday, January 5, 2018 10:13 AM
Bob Dennler
Don will be greatly missed. I am sorry that I will not be able to attend his service today because of my illness. I just had surgery and still on a IV.
Friday, January 5, 2018 9:32 AM
Offer Condolences