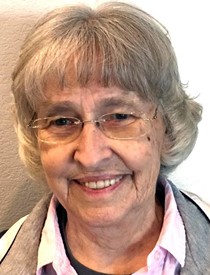 Dorothy "DeAnn" Parks
7/10/1935 — 8/6/2018
Dorothy Ann "DeAnn" (Mielke) Parks, 82, passed away Monday, Aug. 6, 2018, at Royal Plaza Health and Rehabilitation Center in Lewiston, following a five-year battle with breast cancer.
The Lord had been whispering words of peace to mom for some time now, and Monday she chose to reach out and accept his embrace. She passed peacefully with dignity, grace and bravery with family at her side. She will be remembered as sweet, kind and caring, with an abounding love and pride in family.
Born Sept. 7, 1935, to Edwin and Leola (LaHatt) Mielke at their family farm in Cameron, she was the eldest of three children.
She graduated from Kendrick High School in 1952 as class salutatorian at age 16. She attended the University of Idaho after graduation. She later returned to Lewis-Clark State College to complete her teaching degree. She entered the teaching profession in 1974 in the Kendrick/Juliaetta School District, where she taught until her retirement in 1996. One of her favorite jobs was switchboard operator at the Potlatch Telephone Co. in Kendrick. DeAnn was a member of the Eastern Star organization, the Veterans of Foreign Wars Ladies Auxiliary and the Retired Educators.
She married Charles H. Parks Jr. on Feb. 10, 1956. They had been married 56 years when Charles died in January 2013. They raised four children, Steven, Douglas, Charlene and Brian. They were proud grandparents of eight grandchildren and four great-grandchildren, three stepgrandchildren and nine stepgreat-grandchildren.
DeAnn is survived by her children and their families: Steven (Wendy) Parks of Kendrick, Doug (Sharon) Parks of Post Falls, Idaho, Charlene (Byron) Thomason of Lewiston, and Brian Parks of Twin Falls; grandchildren Connor and Sydney Parks of Post Falls, Ryan (Jillianne) Arsenault of Puyallup, Wash., Hailey (Matt) Anderson Davis of Lewiston, Chelsey and Ryley Thomason of Lewiston, Spenser and Isabel Parks of Twin Falls; great-grandchildren Max, Titus, Jett Arsenault of Puyallup, and Emma Anderson Davis of Lewiston; stepgrandchildren Rob (Amy) Clemenhagen, Vanessa (Edward) Clark, and Aaron (Lisa) Clemenhagen, all of Lewiston; stepgreat-grandchildren Jesse, Carter and Aiden Clemenhagen, Chris, Hunter, Gavin and Gracie Clemenhagen, and Justin and Liliana Clark; her sister, Pat (Chuck) Havens of Clarkston; nephew Jeff (Heidi); and niece Charann and Charann's children Cade and Calder.
Mom enjoyed growing up on the family farm, and proudly drove grain trucks and farm tractors as a teenager. She and her parents shared a love of gardening. They spent many early summer mornings harvesting and canning fruits and vegetables. Family favorites were dill pickles and tomato juice. She was an avid seamstress and quilter. Over the years, each of her grandchildren spent time in her lap learning to sew. She enjoyed reading, camping with family and was a proud spectator at her children's and grandchildren's sporting events. During these past few years, some of her most cherished times were spent playing Yahtzee and card games with her grandchildren.
She was preceded in death by both her parents, her husband and an infant brother, Douglas.
A private family graveside service will take place in September. The family requests that in lieu of flowers, memorials may be made to The Gina Quesenberry Foundation, a local charity benefiting Lewiston-Clarkston Valley breast cancer patients.
Offer Condolences