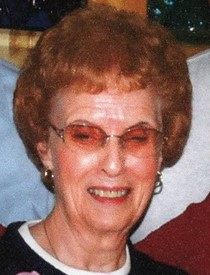 Dorothy L. Anderson
10/7/1923 — 8/11/2015
Dorothy was born Oct. 7, 1923, to John and Pearl (Exline) Winer in Casper, Wyo., and passed away Tuesday, Aug. 11, 2015, at Guardian Angel Homes Timber House in Lewiston.
The family grew with the births of her brothers, Ernie and Wade, whom she lovingly referred to as "the boys."
Her mother passed away at a young age, so she helped her dad with caring for the boys. This included going to cowboy movies on Saturdays because the theater gave away free chocolate bars. She was always a lover of chocolate, but not Westerns in her later life.
Her dad married Louise Thietje when Dorothy was in high school, and she was a wonderful mother to the three kids. Since Louise was a seamstress, Dorothy always had beautiful clothes; a habit she carried through life.
After high school, she went to work for Mountain States Telephone and Telegraph in Casper. On an evening out, she met a tall, good-looking bartender who loved to dance, and she was smitten. She and Delbert Anderson were married Dec. 25, 1942, Christmas Day, in Casper. It was the only day they both had off work, and they went back to their jobs the next day.
In 1944, he talked her into moving to Lewiston, his home town. After her first hot summer here, she was sure he'd embellished some of the finer points of the area. But over the years, she never wanted to live anyplace else.
Shortly after moving here, they bought their home at the corner of 17th Street and 12th Avenue, and she lived there for 64 years. Their yard always looked like a park, though not anymore, and they took great pride in keeping it that way. She was especially honored when her magnolia tree made the front page of the Spokane newspaper.
In 1950, Del was diagnosed with tuberculosis. Because he was unable to work for a while, she went to work as an operator for Pacific Northwest Bell. What was to be a temporary job lasted 21 years. She was the unofficial holiday cook, making full turkey dinners for everyone that had to work. She retired in 1971.
In 1969, she and Del opened Hen's Nest Ceramics. She enjoyed the customers and never minded having to go to work. In 1984, they decided it was time to retire and play.
They loved to travel and had many fun adventures. They especially enjoyed the trips they took with friends in the Lions Club.
Through the years, Dorothy belonged to the Lewiston Jaycettes, Rebekah Lodge, Women of the Moose and Lady Elks. She was also a volunteer for the Red Cross blood drives.
She is survived by her children and their families: Darlene and Alan Kidder and Tori Hemphill of Lewiston; Darin Anderson, Dee Bailey and Tanner Clieze of Clarkston; and Donna Anderson; her sisters-in-law, Mary Winer of Arizona, Frankie Anderson of Lewiston and Nona Barrett of Spokane; and also a bunch of nieces and nephews.
Cremation has taken place, and a memorial service will be held from 2 to 4 p.m. Sept. 13 at the Guardian Angel Homes barn.
The family can never say thank you enough to Dorothy's caregivers in Timber House. Darcie, Jean, Maggie, Kimberly, Amber, Sharon, Lee, Tosha and all her caregivers, you are a blessing to us; and to Joyce for all the hairdos. Also, Kathie Owen for the many years you were Mother's friend, confidant and hairdresser. You are awesome.
Vassar-Rawls Funeral Home has gone above and beyond for our family again and we thank you, Dennis, and the Vassar-Rawls team.
The family suggests any memorial donations be made to the Alzheimer's Association, 910 W. Fifth Ave., Suite 256, Spokane, WA 99204; or the Asotin County Historical Society, P.O. Box 367, Asotin, WA 99402.
Service Information
Date & Time

Sunday, September 13, 2:00 PM

Location

Guardian Angel Homes
2425 Vineyard Avenue
Lewiston, Idaho 83501

Get Directions
Offer Condolences