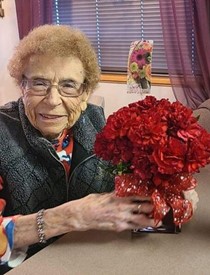 E. Louise 'Jo' Schoeffler
2/13/1922 — 3/23/2022
E. Louise "Jo" Schoeffler, 100, of Lewiston, passed away Wednesday, March 23, 2022, at her home.
She was born Feb. 13, 1922, in Kooskia to Nelson Arthur Judd and Martha E. Harrington Judd, and graduated in 1940 from Kooskia High School.
She married Frank N. Schoeffler on April 23, 1941, in Lewiston. Frank served in the U.S. Army from 1942-45 in Alaska, England and France during World War II.
During Frank's deployment, Jo worked at Farragut Naval Training Station at Pend Orielle in 1942, then she worked in Seattle for Boeing from 1942-45.
After Frank's discharge in 1945, they both moved to Pierce and then later to Orofino. During this time, Jo was a homemaker and cared for their two daughters. In 1955, she started work for Dr. Jack Fairley and worked there until 1979 when her family moved to Lewiston.
At her request, there will be no service. Memorials may be sent to Family Hospice of St. Joseph Regional Medical Center.
Offer Condolences