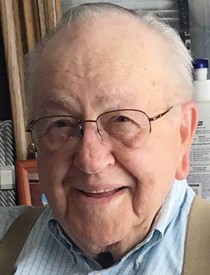 Earl Hewett
12/13/1918 — 12/27/2017
Earl A. Hewett, age 99, of Culdesac, passed away Wednesday, Dec. 27, 2017, at St. Joseph Regional Medical Center, in Lewiston.
He was born Dec. 13, 1918, to Harlen L. and Bertha Heinrich Hewett in Southwick, where he lived as a child. The family moved to Clarkston, where he graduated from Clarkston High School in 1938. He was very athletic and played high school baseball and later was on several area club baseball teams.
Earl married the love of his life, Elva Eaton, in 1938. They were together nearly 79 years before her death in August. They moved in 1943 to Culdesac, where he farmed and worked for the railroad. He also worked in the construction field, starting with the Culdesac grade in the 1950s, and many more jobs in the Northwest. He loved the land and always considered himself foremost a farmer. Until his last few years, he maintained his home, half-acre of lawn, flowers, garden and fruit trees.
He was an avid Mariners, Seahawks and Gonzaga fan.
Earl is survived by his son, Jerry (Maureen); daughter Sharon Wilkins (Dave); five grandchildren; eight grandchildren; and four great-grandchildren. He was preceded in death by his parents; brother Lewis; sister-in-law Maxine Hewett; and grandson Curtis Hewett.
A memorial service will be held at 11 a.m. Saturday at the Culdesac Community Church.
Donations may be made to Culdesac Community Church or the charity of choice.
Offer Condolences