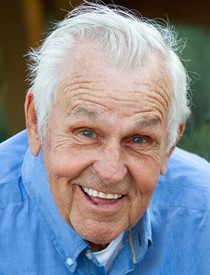 Earl J. Trigsted
7/16/1933 — 9/11/2018
Earl James Trigsted passed away while surrounded by his family Tuesday, Sept. 11, 2018. He died at the Idaho State Veterans Home in Lewiston from complications due to brain cancer — exactly four months after his initial diagnosis.
Earl was also fondly known as Jim, Jimmy, Trigger, Coach, Dad and Papa T.
He was born in Chicago on July 16, 1933. He was the youngest child of Earl George and Verona Trigsted and the younger brother to his only sibling, Carole.
He was enrolled in the Chicago public school system before attending his beloved Lane Tech High School in north Chicago. His four years of varsity football included playing in the 1950 city championship at Soldier Field. This instilled in him a lifelong passion for the game.
After high school, he joined the U.S. Navy and served on the aircraft carrier Roosevelt during the Korean War. After his service in the Navy, Earl attended Portland State College (later Portland State University) and played football for the Vikings. It was during this time when he met a young Portland State cheerleader, Imogene Ellingson, who became the love of his life. Earl and Genie were married in 1955 and they were to celebrate their 63rd wedding anniversary this November. Together they had four children, Mark (Lisa), Lori McCann (Bill Jr.), Todd (Janea) and Kirk (Wendy).
After graduating from Portland State, Earl taught and coached a variety of sports at many Portland-area high schools. Some of his fondest memories included his time coaching at Milwaukee High School and then later at Grant High School, where he was head football coach from 1969 to 1972. In 1973, when Earl was offered the head football coaching position at Lewiston High School, he and Genie made the difficult decision to leave Portland and raise their four children in a smaller town.
But Earl's time teaching and coaching at Lewiston High School was never a job to him. He loved every minute of his 24 years at LHS. He had a zeal for teaching and mentoring. He dearly loved every student whom he taught and every athlete whom he coached. There is not a week that goes by that someone in the community does not mention that "Trigger" was their favorite teacher.
In the 45 years Earl and Genie lived in Lewiston, they were deeply involved in many aspects of the community. Along with his wife, Earl was a devoted member of Trinity Lutheran Church, having served in many capacities, including president of the congregation. In addition, if something ever needed to be fixed, painted or installed, Earl was the man for the job. He loved his church family.
Dad also loved supporting college athletics. He was a die-hard Cougar football fan. He was a season-ticket holder for many years, and his yells at the Cougar defense could be heard throughout Martin Stadium. Over the last several years, Earl and Genie became very involved in Lewis-Clark State College's women's basketball. They rarely missed a game and loved the players they sponsored.
Earl was blessed to have so many wonderful friends. He loved his buddies. He cherished his hunting and fishing adventures, snowmobiling trips, four-wheeling excursions, and rolling the dice for breakfast at the golf course.
Dad passed on his love of sports and the great outdoors to his children, grandchildren and great-grandchildren. He was proud of each and every one of them. He was devoted to following all of his family's activities, whether it was a sporting event, dance recital, 4-H showing or piano recital. He was always there cheering and supporting his loved ones.
It is difficult to sum up a life that was lived with such passion, love, integrity and honor. As his children, we hope to do our best to carry on his legacy.
Earl is survived by his wife, his four children, his sister, 11 grandchildren, 14 great-grandchildren and countless friends.
A funeral service will be held at 11 a.m, Monday at Valley Christian Center, 3215 Echo Hills Drive, Lewiston. A celebration of life reception will immediately follow the funeral at the Lewiston Red Lion Hotel.
The family would like to thank everyone at the Idaho State Veterans Home in Lewiston, especially the staff of the "Butterfly Room" — the end of life facility at the veterans home — for the amazing care of our father. The wonderful nurses tenderly treated Dad with the utmost respect and dignity until his final breaths.
In lieu of flowers, the family has created a GoFundMe account for donations to the "Butterfly Room" and the Lewiston Idaho Veterans Home. Visit www.gofundme.com/idaho-state-veterans-home-lewiston or send checks to The Jim Trigsted "Butterfly" Room Fund, The Idaho Veterans Assistance League, 821 21st Ave., Lewiston, ID 83501.
Service Information
Date & Time

Monday, September 17, 11:00 AM

Location

Valley Christian Center
3215 Echo Hills Drive
Lewiston, Idaho 83501

Get Directions
Condolences
Karla Bordwell
Rest in Peace Coach. Prayers to your family at this time. Your personality and smile have touched so many through the years. You will never be forgotten!
Friday, September 21, 2018 3:33 PM
Offer Condolences