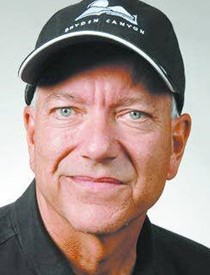 Edward G. Merkuris
9/19/1956 — 8/26/2020
It is with great sorrow that we announce the passing of Ed Merkuris on Wednesday, Aug. 26, 2020. Ed passed away quietly at home from complications of heart disease and diabetes.
He was born Sept. 19, 1956, in Lewiston, to George Merkuris and Anne Remacle Merkuris. He attended school in Lewiston, graduating from Lewiston High School in 1975. He attended Lewis-Clark State College, graduating in 1977 from the auto body program. He and Debbie Johnson were married in 1979 and have made their home in Clarkston.
Ed worked at Brian's Body Shop, driving back and forth to Pullman for more than 20 years. He then worked at Masters Body Works and Kennedy's Body & Paint, both in Lewiston, retiring in 2019. He was an auto body repairman and prepared estimates. Over the years, his favorite part of his work day were the shop dogs, including bulldogs Bill and Rudy in Pullman and Anton at Kennedy's. Ed enjoyed sports, particularly watching football and playing golf.
Ed was preceded in death by his parents, George and Anne Merkuris; and his grandparents. He is survived by his wife, Debbie; his sister and brother-in-law, Barb and Tim Weza; sister-in-law and brother-in-law Kathie and Terry Otte; nephews James Weza, Alex Weza and Brian Renfro; niece Stacie Renfro; and their families.
Ed will be remembered at a private family graveside service.
Condolences
Anna Deliganis and George Webb and Family
Eddie was one of the kindest people, always with a warm smile for his Seattle cousins. We are so sorry to hear of passing. May his memory be eternal. Sending our love and comfort during this time of loss.
Wednesday, September 2, 2020 11:09 AM
Offer Condolences