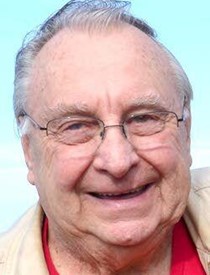 Edward H. Robers
3/28/1937 — 2/8/2022
Edward "Ed" H. Robers, 84, passed away Tuesday, Feb. 8, 2022, at St. Joseph Regional Medical Center in Lewiston with his youngest daughter holding his hand.
He was born March 28, 1937, to Martin and Catherine (Lois) Robers in Wheatland, Wis. He married Arlene S. Seitz on Oct. 5, 1957, in New Munster, Wis., and they had three children. He was a carpenter and a dairy farmer until the beauty of the great outdoors drew him to Idaho in August of 1981. He fell in love with the coast and moved to Newport, Ore., in 2001. In 2018, because of declining health, he moved to Lewiston to be closer to his daughter.
His hobbies included fishing on the Great Lakes, hunting in Idaho, collecting antiques and yard sales.
Edward is survived by his three children; Julie (Randy) Brusky, of Ahsahka, Steven (Susan) Robers, of Fenwood, Wis., and Cindy (Ken) Stamper, of Lewiston; nine grandchildren, 12 great-grandchildren and sibling Martin (Audrey) Robers, of Burlington, Wis.
He was preceded in death by his parents; his first wife, Arlene Robers; grandson Jeremy Brusky; and siblings Charles (Phyllis) Robers, Lucille (Andrew) Borcuki, Martha (Ed) Hegeman, Esther (Roman) Hegeman and Arthur (Patricia) Robers.
And in the words of Ed, "If you don't have a good day, it's your own damn fault."
There will be no service scheduled at this time. A private family memorial will be scheduled at a later date.
Offer Condolences