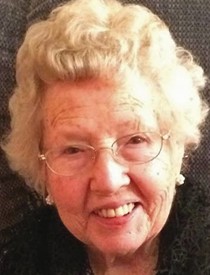 Eileen M. Kluss
1/6/1922 — 2/27/2018
Eileen Marie Funke Kluss, 96, matriarch of the family, went to be with our Lord on Tuesday, Feb. 27, 2018. She was born near Cottonwood, to Edward and Marguerite Seubert Funke, on Jan. 6, 1922. She spent her first 11 years in Westlake, Idaho. During her early years, she attended Catholic school in Cottonwood, living with her grandparents, Anna and Jake Jenny, during the week and returning to her home on the weekends. During the hard Cottonwood winters, her father often had to take her and her brother, Bud, to Cottonwood in a small horse-drawn sleigh called a cutter.
Eileen graduated from Ferdinand High School in 1940. She attended Lewiston Business College and graduated in 1942. During this time, she was a nanny for Helen and Marcus Ware. They became friends for life.
She was employed at Idaho First National Bank from 1942 to 1950. She met Ralph Kluss through her roommate, Moureen Herman Greco. Ralph and Moureen were cousins and Moureen invited him to dinner, where Ralph and Eileen began a long-distance courtship, as he was stationed on the USS Enterprise during the war. They were married on June 5, 1946. They lived in Lewiston all their married life.
Ralph and Eileen were very involved in Our Lady of Lourdes Church and School. They enjoyed playing bridge with friends, traveling and simply visiting with people. She and Ralph opened Kluss Appliance in 1962, and she was active in the store for 50 years. As a mother, Eileen was always very supportive of her children, often arising at 5 a.m. to make sure the boys got their papers delivered on time. She was a Boy Scout den mother, and she encouraged her children in their musical endeavors. She was a room mother at Our Lady of Lourdes School, and she worked at the Thursday "Hot Dog Sale." Mom lived in the time when women stayed home to raise their children and parented all the neighborhood kids, got their hair done weekly and had dinner ready when dad walked in the door.
Eileen was a member of All Saints Catholic Parish, was known for her wonderful cooking and was happy to be an election day poll worker. She volunteered as a Pink Lady at The Elizabeth Shop (gift shop) at St. Joseph Regional Medical Center.
She was a member of the Idaho Catholic Daughters for more than 60 years. She and Ralph were lifetime members of the Lewiston Elks Club.
Eileen is survived by her brother John (Mary); and sister-in-law Theresa Funke; her children, Sister Mary Frances, Ed (Susan), Judy (Larry) Bean, Jim (Carolyn), and Bob (Debbie); grandchildren Shannon, Eric, Carly, Courtney, Laura, Aaron, Chris, Megan, Chivonne, Ian, Bobby, Jason and Brandon; and numerous highly loved great-grandchildren. She was preceded in death by her parents; her husband, Ralph; and her siblings, Anna, Bud, Don and Margie Riener.
Eileen enjoyed her daily dish of ice cream until her final days. She loved her entire family unconditionally, and we are proud of her life well-lived.
A rosary will be recited at 7 p.m. Friday at Vassar-Rawls Funeral Home, with a Mass celebrated at 11 a.m. Saturday at St. Stanislaus Church, 633 Fifth Ave., Lewiston. A graveside service will be followed by a reception at St. Stanislaus Parish Hall.
Service Information
Date & Time

Saturday, March 10, 11:00 AM

Location

St. Stanislaus Catholic Church
633-5th Avenue
Lewiston, Idaho 83501

Get Directions

Additional Details

Rosary will be at 7:00 p.m. at the Vassar-Rawls Funeral Home on Friday night.
Condolences
Bill and Judy McGarry
Eileen was such a wonderful lady. We always enjoyed visiting with her after Mass in the social hall at church. Eileen was just a couple houses down from Bill's mom and dad so we always made sure to take the kids trick or treating every year to her house. We will certainly miss her.
Saturday, March 10, 2018 8:09 PM
Virginia and Bill Crea
She is certainly in the arms of God. Please accept our deepest sympathy. We are friends of Sister Mary Frances and John and Mary Funke.
Wednesday, March 7, 2018 12:02 AM
Jennifer Kent (daughter JennyKaye (Seubert) Kent
What a beautiful lady!!!
I am keeping her and your family in my thoughts and prayers.
Tuesday, March 6, 2018 2:26 PM
Offer Condolences