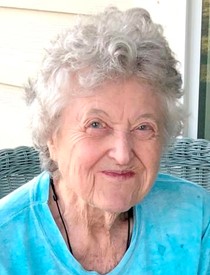 Elizabeth Ann Hogan
2/2/1933 — 6/12/2022
Elizabeth Ann Hogan passed away on Sunday, June 12, 2022, at the age of 89.
Ann was born Feb. 2, 1933, to Basil E. and Helen L. Hutchison in Randall, Kan. She had two sisters: Leah (Bunny) and Gloria Jean.
The family moved to Oregon when Ann was about a year old. She attended schools in Grant County and graduated from Grant County High School in 1952.
Ann married Jerry L. Hogan in Reno, Nev., and moved to Lewiston. They later divorced in 1970 after having six children.
Mom worked several jobs while attending Lewis-Clark State College and raising her children. She graduated May 31, 1969, with a bachelor's degree in elementary education.
Ann taught second grade at the old Garfield school until it was closed, then at Orchards Elementary School until finishing her career at Webster Elementary School, retiring in 1995. She was very proud of teaching 26 different groups of second graders. She loved her students. She entertained us all with many teaching stories.
As a teacher, Mom had the summers free and would often take her grandchildren for extended trips each summer to Disneyland, to the coast or to Canada.
Mom was like many of her generation; she had a difficult time parting with "anything." Her drawers were filled with balls of string, wine corks, etc. You get the picture. We all ribbed her about creating a funeral pyre and throwing her on it with all the stuff we would find in her house. We still get a good laugh about some of the stuff she saved and her famous words: "I might need it someday!"
Mom was a ham radio operator and enjoyed camping and rafting on the whitewater rivers in Idaho and Oregon.
Ann was preceded in death by her parents, Basil and Helen; sisters Leah (Bunny) and Gloria Jean; eldest son Jerry Jr.; and middle daughter Colleen. She is survived by her remaining children: Stephanie Hogan, Kelly (Debby) Hogan, John (Michelle) Hogan and Christa Hogan. She is also survived by her grandchildren, Todd Hogan, Tracey Hogan Frederick, Sean Hogan, Devin Hogan, Brandon Hogan, Jason Hogan and Josh Hogan; and 13 great-grandchildren.
Mom attended Congregational Presbyterian Church for many years. Her weekly presence sitting in the same pew was missed when she could no longer attend. She forged a few good friendships with those sitting around her. Mom also assisted for many years with getting the church's newsletter out. She always looked forward to newsletter day and going out to lunch afterward.
Thank you all for loving on our mother, grandmother, great-grandmother and aunt. You hold a special place in our hearts because she held a special place in yours. Thank you to Golden Girls Residential Care and their staff for taking such loving care of her in her last years.
If you knew Mom, you knew that she was never comfortable drawing attention to herself. That applies even in death. She didn't want a memorial. She did, however, express wishes concerning her ashes, and there will be a private family gathering for that.
Offer Condolences