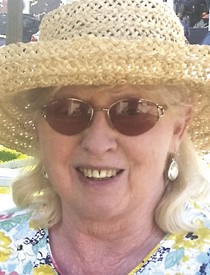 Elizabeth B. 'Betty' Johnston
8/1/1934 — 4/7/2018
Elizabeth "Betty" Johnston of Clarkston passed away peacefully Saturday, April 7, 2018. Betty was born Aug. 1, 1934, in Philadelphia to Joseph and Elizabeth Holdsworth. She attended grade school at St. Bridget's in East Falls, Pa., and St. John the Baptist High School for Girls, graduating in 1952.
Betty worked for the Reading Railroad until 1954, when she met a handsome sailor, Bill Johnston from Lewiston, on a blind date. They were married in 1954, and they moved to Clarkston for 21/2 years while Bill attended the University of Idaho. They started a family and then moved to Southern California, finally settling in Thousand Oaks, Calif.
Betty was a wonderful wife, mother, grandmother, great-grandmother and friend. She loved to have her family together and knew how to host all the holidays. She loved to decorate the house and yard for the holidays. She also just loved to sit down and enjoy a nice cup of tea with her friends or guests. Betty loved to read books and always said how she wanted to write her memoirs.
Betty worked a few years for St. Patrick's Episcopal School in the office and then worked in the medical records department for Los Robles Hospital before finding her favorite job working for Dr. Loh at the Ventura Heart Institute. Betty retired in 1992, and she and Bill moved back to Lewiston, fondly referred to as "God's Country." After retirement, Betty's passion was her flower garden, traveling, volunteering at St. Joseph Regional Medical Center with infants, helping children read at Asotin Elementary and spending time with her grandchildren and family.
In Betty's world, everything was done to her liking, and she made her girls toe the line. She didn't like it when the friendly bantering between family members would get out of hand. She tried to curb this with the humiliation of wearing "The Bell." She thought this would stop the insults from flying but we ended up being proud to wear "The Bell," as it became a favorite family tradition.
Betty is survived by her husband of 63 years, Bill Johnston; daughters Cheri Hill of Camarillo, Calif., Lisanne (Bob) Bingman of Clarkston, Michelle Johnston of Spokane, and Nikki (Kurt) Ausman of Clarkston. She leaves behind grandchildren Raymond, Misty, Kaeli, Kaili and Brooklyn; great-grandchildren Taylor, Cody, Skylar, Lillie and Ray III. She was preceded in death by her parents, brother Joe and grandson Tony.
Mom will be missed by her family and so many friends. There will not be a service, so in lieu of flowers the family requests donations to www.ALZ.org in Betty's name - and please pray for a cure for Alzheimer's.
Offer Condolences