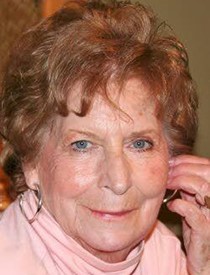 Elizabeth L. 'Betty' Seubert
7/31/1929 — 2/4/2022
Elizabeth "Betty" (Uhlenkott) Seubert passed away on Friday, Feb. 4, 2022, another victim of the Global Pandemic COVID-19. The gracious staff at St. Joseph Regional Medical Center allowed loved ones to be with her in the end. We held her hands and told her how much we loved her as she took her last breaths.
On July 31, 1929, Mom was born to Antonie (Tony) Uhlenkott and Mildred McKinley. She was the oldest of six children born and raised in Ferdinand. She often shared fond memories of her early years. Her kind and loving father worked for the railroad, and her sweet and doting mother tended to the needs of her large family. She played games of yesteryear and built lifelong friendships in Ferdinand. She started on the varsity basketball team and graduated form Ferdinand High School. She often shared the story of her and her siblings working in potato fields to help save enough money to buy the family a car.
Mom was a perfect reflection of her upbringing. She was the strongest and kindest person I ever knew. She wore her heart on her sleeve but often spoke her truth without malice. Like her father, she teased her children, and like her mother, she worried too much about everything. She was a Christian, reading her bible and saying her prayers daily. Her strength and prayer got her family through many toil and struggle.
Mom was not without her flaws. She made well-known her lack of patience. She never enjoyed the long, cold winters of Idaho, nor the "fall back" time change. She often joked that she'd rather hibernate with the bears than endure snow and cold. She could be feisty when pushed but was not one to hold a grudge. She was also not afraid to use colorful language. Her family proudly carries on her flair for colorful language.
Mom loved to work. Into her 80s, she cleaned houses to help pay the bills and feel productive. She took pride in her work no matter the job. She loved to clean and make a home look spotless. On her days off, she would enjoy cleaning her own house, washing clothes with a wringer washing machine and hanging the clothes outside to dry. She was disappointed whenever she had to use her washer and dryer.
Mom had numerous great friends throughout the years, too many to mention. Laughter, tears and small-town gossip with friends was often found sitting around her dinner table. Mom loved to dance and listen to good piano music. She loved decorating her home, tending to her plants and sharing a good meal. A spiral ham, mashed potatoes, green beans and a shrimp salad were a staple meal at her home. She baked cakes from "scratch" and made the best homemade caramels known to humankind. She loved her dogs over the years, especially Buddy and Sugar. Mom embroidered many a dish towel, worked crosswords, and watched Jeopardy to pass the time. Mom was a Gonzaga basketball fan, watching every televised game, feeling the joy and sorrow of Zag Nation in the NCAA tournament.
Mom was home-bound the last few years. Two bad falls, a broken shoulder, a fractured hip, a degenerate disk in her back and sciatica took their toll on her body. Her mind was sharp and her health sound. She was passionate about health and single-handedly counseled countless people to seek nutritional supplements to improve their health. She took probiotics before they were a fad. Her small-town community provided a lot of support to her over the years. The family wants to extend a special thanks to Stacie and Bonnie, and Dr. Ron Sigler, her longtime physician.
Mom is preceded in death by two children, Bonnie and Josie; and siblings, Jerry, Karen, Dennis and Dale. She is survived by her sister, Jo Ellen; sister-in-law Wilma Jean; and two children, Sharon and Jason. She is also survived by numerous grandchildren, Tawnya and Wade, Dusty and Kelsie, Chase and Bri, Jerica and Connor and Kyra. Also surviving are her great-grandchildren, Cameron and Robbie, Angela, Michael, Jacobi, Elijah, Brookelyn and Adelayde; and numerous nieces, nephews and cousins.
We will hold a private celebration of life "next summer when it gets hot." Instead of flowers or gifts, we ask that you donate to a charity of your choice.
Offer Condolences