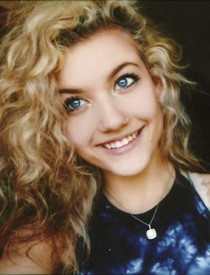 Elizabeth S. Krueger
4/27/1999 — 8/9/2018
Elizabeth, also known as Liz, or Lizzy B, was born April 27, 1999, in Bozeman, Mont., to Jonni Wallace and Jason Krueger. They say it takes a village to raise a child, and her village included many, including her aunt and uncle, Jodee and Andy Chambers, with whom she lived off and on through the years. Although she is loved by many, her dad says he loves her "mosterest." She loved everyone she came into contact with, but she dearly loved her boyfriend, Isiah McCrae, and their dogs, Indigo and Luna, and they loved her to the moon and back, forever and always.
Liz loved theater, impersonating actors, singing loud in the car, headbangin' at concerts and living for the moment. Liz never judged anyone and befriended everyone. She loved unconditionally. Although she also loved to poke the bear, which she thought was funny. She didn't go anywhere that she didn't bring a smile to the faces around her. Everywhere she went, she talked to everybody. She loved to talk. Liz tiptoed to the beat of her own drum; she literally tiptoed everywhere until she could wear high heels. This definitely helped her when she went on to modeling. Although she was a student in Lewiston for so many years, she graduated from Clarkston High School. She planned on attending Lewis-Clark State College to become a nurse practitioner.
On Thursday, Aug. 9, 2018, at Buffalo Eddy near Asotin, she became an angel with wings like a beautiful butterfly, soaring gracefully in the sky. She will be sorely missed by so many.
Liz was preceded in death by her grandpa, Howard Krueger; papa Terry Jackson; grammi Salli Jackson; and grandma Tammi Wallace. She is survived by her father, Jason (Rhonda) Krueger; mother Jonni Wallace; aunt and uncle Jodee and Andy Chambers; brothers Levi Beirwagen and Jayden Green; cousin sister "couster" Mardee Chambers; cousin Lyndon Chambers; and many more extended family and friends who loved her dearly.
A message from Liz on her Instagram: "To anyone going through a hard time right now; good things are coming and they're going to make you feel on top of the world from where you are now. The earth and people around you love you. From me to you, sending love and luck." The Word of God says in Psalm 30:5b, "Weeping lasts through the night, but joy comes with the morning."
May you rest in paradise, my sweet child.
A memorial service for Liz will be held at 11 a.m. today at Pioneer Park in Lewiston. A lunch will follow.
Service Information
Date & Time

Saturday, August 18, 11:00 AM

Location

Pioneer Park
5th Street & 3rd Avenue
Lewiston, Idaho 83501

Get Directions
Offer Condolences