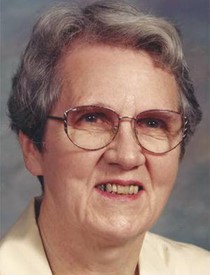 Ethel Johnson
1/30/1926 — 6/16/2018
Ethel Luverne Johnson went to be with her Lord on Saturday, June 16, 2018, at Royal Plaza Care Center. E. Luverne Johnson was born to Peder and Jane Larson in Grand Forks, N.D., on Jan. 30, 1926. She was the fifth of 10 children. She attended elementary schools in Grand Forks and East Grand Forks, Minn. She graduated from East Grand Forks High School in 1943.
In 1943, Luverne followed her father and older brother Ray to Spokane, where she found employment. She met her future husband, Earl M. Johnson, at the Spokane Air Depot, where he was employed as a mechanic and she was in the parts department. Earl and Luverne were married March 3, 1949, in the First Presbyterian Church in Spokane. They were married for 57 years until his passing in September 2006. She and Earl had two children - Eric R. Johnson, born in December 1949, and Alan P. Johnson, born in December 1954. She was a member of the Northwood Presbyterian Church in Spokane. She and Earl enjoyed many years of bowling leagues in Spokane. She was an avid knitter and seamstress, creating clothing for the entire family. In 2007, she moved to Royal Plaza Retirement Home in Lewiston.
Luverne was preceded in death by brothers Harry Larson, Raymond Larson, Bennett Larson and Ralph Larson; and sisters Jean Fickel and Rita Main. She is survived by brother Paul Larson (Minnesota) and sisters Ruth Telford (Washington) and Barbara Fulmer (Florida). She also is survived by her two sons, Eric and Kathy Johnson of Sinks Grove, W.Va., and Alan and Kathy Johnson of Lewiston; six grandchildren, Scott Johnson, Wesley Johnson, Emily Johnson, Andrea Johnson, Kelly Everding and Alex Ranvik; and numerous great-grandchildren. Vassar-Rawls Funeral Home of Lewiston is handling arrangements. No service is planned at this time.
Offer Condolences