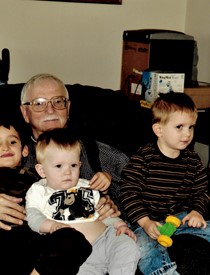 Eugene "Woody" Bausch
11/8/1943 — 8/8/2018
Our Woody lost his four-year battle with cancer the morning of Wednesday, Aug. 8, 2018, at home, surrounded by family.
Woody Bausch was born Nov. 8, 1943, in Lewiston to Dan and Ruth Meadows Bausch. He lived in the L-C and Clearwater valleys, attending school in Lewiston, Juliaetta and Orofino. He grew up loving the outdoors of Idaho, hunting, fishing and camping. He graduated from Orofino High School in 1962. He attended the University of Idaho. During the summers of his college years he worked for the U.S. Forest Service on fire crew, working his way up to crew boss. He graduated with a degree in music education in 1967, fulfilling his lifelong love of music.
He began his teaching career in Weippe and Pierce, producing superior bands. He married Tam Judy in 1968. They later divorced. In 1973, he headed to Petersburg, Alaska, to accept a teaching job. He stayed five years, coming back to Orofino in 1978 to teach for one year. In 1979, he headed back to Alaska, to Haines this time, to again teach music. There he met Colleen Bieleski, who taught fourth grade. They were married in 1983, and he gained a five-year-old son and three-year-old daughter, along with his wife. In 1985, they added a son, making their family complete.
Woody retired in 1992. In May of 1993, he traveled to Africa on a photo safari. Colleen retired in 1993, and they moved their family south to Orofino, where they lived until 2016. During that time, he pursued his love of photography, producing many beautiful images and producing and selling a book of his favorite photos he had taken of the Clearwater region. He also made and sold notecards and postcards, and took senior and wedding pictures during his time doing photography. He started directing the Orofino Community Choir after moving to the area and continued to do so successfully, sharing his love of music with the choir members and the community for 20 years. They produced a CD of spiritual songs during that time. In September of 2016, health forced a move to Lewiston. During the past two years, Woody enjoyed spending time with the family and his grandkids at the new house, going on camping trips with Colleen and their camping group, and doing projects around the home.
Woody was diagnosed with esophageal and liver cancer in 2014. The cancer moved to his brain in 2015. He endured 3½ years of treatment before he ran out of options. He fought the good fight for four years.
Survivors include his wife, Colleen, at the family home; son John (Crystal) of Everett, Wash.; daughter Lisa (David) Morse of Moscow; Max Bausch of Lewiston; grandsons Elijah Morse, and Mason and Sawyer Bausch; brother Dennis (Kim) Bausch of Boise; sister Sandy (Ed) Butler of Hope; and uncle Leo Bausch of Lewiston. He also has numerous cousins, nieces and nephews. He was preceded in death by his parents, Ruth and Dan Bausch.
A memorial service will be held at 11 a.m. Saturday at Crosspoint Alliance Church, 14th Street and Powers Avenue, Lewiston. A potluck dinner will follow at the church after the service. A private burial will be held at Normal Hill Cemetery later in the afternoon. Donations can be sent to ICARE in Orofino, Lewiston Fire Department or SJRMC Hospice.
Service Information
Date & Time

Saturday, August 18, 11:00 AM

Additional Details

Memorial Service Saturday August 18,2018 at 11:00 AM CrossPoint Alliance Church
Condolences
Sally Glenn browning
God bless the family of Woody. From a grade school classmate from Juliaetta grade school. Most talented person he will be missed by many. So very glad to have known him. Sally browning. Juliaetta,id
Saturday, August 18, 2018 5:14 PM
Offer Condolences