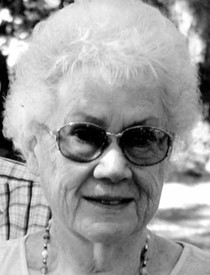 Eva L. Herring
2/13/1930 — 9/20/2017
Eva L. Herring passed away Wednesday, Sept. 20, 2017, at Kindred Care in Lewiston.
She was born Feb. 13, 1930, in Parma, Idaho, to Cannon and Cora Stout. She attended school in Parma and Fruitland, Idaho. She and Keith Herring were married in Winnemucca, Nev. She was employed as a meat wrapper, and worked at Lewiston Manor, which is now Kindred Care of Lewiston, and the Lewiston School District. She retired with Keith in 1990.
Mom worked in her church at many committees throughout the years. She was secretary of the board, missions and communion committee. She loved to be involved with the free meal once a month to the community, was a Sunday school teacher and loved being a member of the Orchards Church of the Nazarene for many years.
Keith and Eva traveled in their recreational vehicle, spending several summers in Alaska salmon fishing and meeting new friends. They loved camping and spending time with family at their cabin at Dent Acres near Dworshak and camping at Hells Canyon.
Eva is survived by daughters Lynn VanThiel of Lewiston, and Nancy Herring of Concrete, Wash.; son-in-law Gene Ring (Suzanne); sister Beulah Stout of Texas; brother Bud (Helen) of Sunnyside, Wash.; grandchildren Keith and Shay VanThiel of Seattle, and Laurie VanThiel of Seattle; adopted daughters Karol Moore and Kathy Goldner of Lewiston; and many nieces and nephews, with whom she loved to spend time.
She was preceded in death by her parents; husband Keith; daughter Jean Ring; son-in-law Bill VanThiel; granddaughter Joy Noel Michaels; sisters Ida Chadburn, Bonnie Brumfield, Opal Olson, Lydia Jenkins and Inez Altman; brother Joe Stout; and very special sister-in-law Jo Herring.
Mom loved to write poetry and had numerous poems published in Golden Times.
A celebration of life will be held at 10:30 a.m. Monday at Vassar-Rawls Funeral Home, 920 21st Ave., Lewiston. Interment will be at the Sunnyside Cemetery in Lenore. In lieu of sending flowers, donations can be made to Orchards Church of Nazarene to Benevolence Fund, or the Gideon's for Bibles.
Thank you to Dr. Baldeck, Karen Baldek, Tammy and Darci for all their care and love over the years. Thank you to all the staff at Kindred Care in Lewiston for your excellent care for meeting Mom's every need and ours.
Service Information
Date & Time

Monday, September 25, 10:30 AM

Location

Vassar-Rawls Funeral Home
920-21st Avenue
Lewiston, Idaho 83501

Get Directions
Condolences
Denny, Denise and Susie Pedersen
Bud and Helen and family:
Our thoughts and prayers are with you at this time.
Sending our deepest sympathy.
..The Pedersen's
Saturday, September 23, 2017 10:16 AM
Offer Condolences