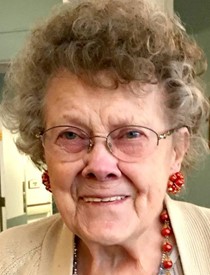 Evelyn F. Ash
3/26/1925 — 11/19/2020
Evelyn Fuhrman Ash was born March 26, 1925, to Albert and Caroline Fuhrman in Little Falls, Minn. She passed away peacefully in her sleep of natural causes at the age of 95 on Thursday, Nov. 19, 2020.
She moved to Idaho with her family at a young age and attended school in Lewiston. Evelyn met Charles Ash while she was working at Eddie's Malt Shop and he was in the Navy stationed in Pasco. They were married Oct. 6, 1945, in Lewiston. They moved to Shelbyville, Ind., after the wedding and had two children, Darlene Ash Simpson and Duane (Charlotte) Ash. In 1956, the family returned to Lewiston, where she lived a long life. She waited tables in a variety of establishments over the years including Eddie's Malt Shop, White Front Cafe, where she became the owner, J.C. Penney Coffee Shop, Stockyards Café, the Hotel Lewis Clark and Ciao. Charles died Dec. 24, 2004, after 59 years of marriage.
Evelyn is survived by her son and daughter; two grandchildren; five stepgrandchildren; two great-grandchildren; 11 stepgreat-grandchildren; three stepgreat-great-grandchildren; four sisters-in-law; and numerous nieces and nephews. She was preceded in death by her parents; and siblings Joseph, Bert, Dick, Leo, Violet Strickland, Boyd (Carol), Donald, Lorraine Matthewson and Ernie (Joy).
In lieu of flowers, please be nice to someone today or donate to the food bank in mom's name.
Offer Condolences