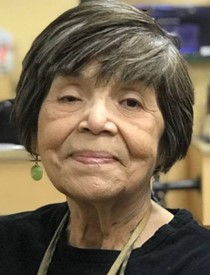 Evelyn R. Higheagle
3/2/1950 — 2/3/2022
"Her children rise up and call her blessed; her husband, too, praises her: 'Many are the women of proven worth, but you have excelled them all.' Charm is deceptive and beauty fleeting; the woman who fears the LORD is to be praised. Acclaim her for the work of her hands, and let her deeds praise her at the city gates." Proverbs 31:28-31
On Thursday, Feb. 3, 2022, Evelyn Rose Higheagle, 71, of Lapwai, went home to be with her God and beloved husband, Tony, in heaven. The lasting impact of her life is forever imprinted in the hearts and minds of her children, grandchildren, family, friends and former students.
She was born Evelyn Rose Jefferson (Penney) to James Jefferson Sr. and Jane Penney on March 2, 1950, in Tacoma. She was proud of her Lummi and Nez Perce tribal heritages. She comes from a huge family that consists of 11 half-siblings from her father, three half-siblings from her mother, and two full siblings, Gregory and Sally. Her aunt and uncle, Charles and Jane Williams, helped raise Evie in Tacoma.
She spent many summers in Lapwai with her uncle and aunt, Earl and Blanche Gould, until she moved permanently to live with them in eighth grade. They also raised Albert, Michael and Zandra Barros; Sheryl Jacques; Robert Kipp; and Adam, Doris and Blanchette Villivicencio.
She attended the Lapwai School District, where she met her high school sweetheart and love of her life, Anthony Higheagle Sr. They graduated together in 1968. They have five children, Tami, Anthony Jr, the late Juan Crawford, Eva, and Dominic. They also have 16 grandchildren and seven great-grandchildren.
In 1972, Evie was encouraged by an elder to apply for a position with the Lapwai School District and this started her career in education. She began as a teacher's aide who attended evening classes at Lewis-Clark State College to work toward her degree in education. At the same time, she faithfully supported and raised her family with Tony. She completed her degree in 1978.
Evie's calm and patient demeanor helped in her new positions in the JOM, Title I and Title IV programs that targeted remedial assistance for students with learning disabilities. In 1987, she began teaching kindergarten. Later, she also taught first and third grades. Because of medical reasons, Evie retired in 2003 after working for 31 years at the Lapwai School District.
Evie's dedication to teaching did not stop after retirement. She continued sharing her teaching techniques with her grandchildren and great-grandchildren. Evie is recognized in the community by her former students and acknowledged as Mrs. Higheagle. She enjoyed gathering for lunch every month with the Lapwai Retired Teachers Group.
Evie had a strong Christian faith. She was baptized three times. Nancy Halfmoon and Esther McAtty baptized her at the Spalding Presbyterian Church, Earl and Blanche Gould baptized her at Second Presbyterian Church, and her husband Tony and his family welcomed her into the Sacred Heart Catholic Church. She was a person who provided positive input and encouragement to all who crossed her path. Evie would always stop to pray for anyone she knew was in need, including many she connected with on Facebook. She loved to listen to Native American ministry and inspirational music.
Her family is very proud of her and all her accomplishments. In 2021, she was named the Nez Perce Tribe's Female Elder of the Year. People often sought her wisdom and guidance, because she was a great listener and could give others confidence with her calm, patient and thoughtful ways.
One of her favorite pastimes was watching her children and grandchildren play sports. She was an avid Lapwai Wildcats fan who also supported the Clarkston Bantams when her granddaughter, Sierra, played basketball there. Evie played on various adult softball teams and she also coached youth softball teams. Tony and Evie were part of the Bud Light Soccer Club and Lapwai Booster Club.
She enjoyed living her tribal culture and passing on knowledge to others. Evie was very active in tribal politics in elected positions with the Nez Perce General Council Amendments and Elections committees. Giving back to the community was important to her, so she often supported individuals or groups raising money.
The home of Tony and Evie Higheagle was always open to all people and was filled with laughter and love. They were second parents to many of their nieces, nephews and friends of their children. Their devotion to each other was always apparent and inspirational. Many people who encountered them in their home and community have a lasting example of their love for all people.
Evelyn is survived by her daughter Tami (Jeff) Dixon, their children Spencer, Miranda, Deion and Jayda. and grandchildren Mylez, Haley, Zoey and Liam, of Bothell, Wash.; son Anthony (Billie) Higheagle Jr. and their children Halisa, Gabriel, Valea, Julia and Coby, of Olympia, and grandchild Tonia; daughter Eva Higheagle and her children Fianna, Winter, Micaiah and Farrell, of Lapwai; son Mike Hayes, of Spokane; son Dominic (Jessica) Higheagle and their children Sierra and Nico, and grandchildren Easton and Teyonni, of Lapwai; her brothers John Jefferson, of Bellingham, and Gordon Higheagle Sr. and Kevin Ellenwood Sr., of Lapwai; sisters Sally Springs, of Peoria, Ariz., and her daughter Sadie Smith and granddaughters Megan, Millie, Teresa Williams, Vicky Jefferson, and Sandra Jefferson, of Bellingham, Wash., Gaylin Billy, of Harrah, Wash., Jackie Jefferson, of Lynwood, Wash., Verona Jefferson, of California, and Carol Wheeler, Sandra Higheagle and Rosa Yearout of Lapwai; and numerous nieces, nephews, cousins and godchildren.
She was preceded in death by her husband, Anthony Higheagle Sr.; her son Juan Crawford Higheagle; her parents, James Jefferson Sr. and Jane Penney; her grandson Malique Higheagle; and her siblings Jeannette Sturgeon, James Jefferson Sr., Gregory Jefferson, Wesley Jefferson, Harrison Kipp, Billie Kipp, Lottie Jane Kipp, Gregory Penney and Michael Barros.
A celebration of life for Evelyn will be held at 10 a.m. today at the Pi-Nee-Waus in Lapwai. The family will lead a rosary. The Mass for Christian Burial will start at 11 a.m. with the Rev. Mark Uhlenkott of All Saints Catholic Church in Lewiston. This will be followed by a memorial service lead by the family.
Memorial donations in Evelyn's name can be made to the Lapwai School District for scholarships for Lapwai students.
Vassar-Rawls Funeral Home in Lewiston is in charge of arrangements.
Service Information
Date & Time

Saturday, February 5, 10:00 AM

Location

Pi Nee Waus Community Center
Corner of Main Street & Birch Avenue
Lapwai, Idaho 83540

Get Directions
Offer Condolences