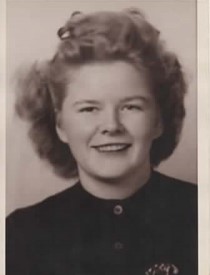 Evelyn R. Jordan
6/20/1928 — 3/31/2020
Evelyn Ruth (Ingle) Jordan died peacefully of natural causes, at the Brookdale Senior Living Center in Lewiston, Idaho, on March 31, 2020.  She was 91. 
Evelyn was born on June 20, 1928 in a small house in Ontario, Oregon, the third and youngest child, and second daughter, of Curt and Lula (Tompkins) Ingle.  She attended school at the old Cairo School, and spent much of her childhood outside riding horses at the family cattle ranch while her Mom and older sister, Helen, took care of the house.  After graduating high school in 1946, Evelyn moved to Boise to attend Links Business School, learning shorthand and clerical work. She subsequently worked for Farmers Insurance in Boise until she met John Jordan, a native of Boise and a school music teacher. John was a single father of two, a daughter, Debra and son John David.  John and Evelyn were married In May, 1958.  They began their married life in Nezperce, Idaho, where the Jordans lived for many years and John became a legendary music teacher.  Along the way, Evelyn gave birth to three sons, Steven, Henry Paul, and James.  Evelyn raised her family of five kids on wonderful comfort food, Sundays at the Methodist Church in Nezperce; and flanked always by a beloved toy poodle, who changed over the years, with names like Sparky, Mindy, Colby, and Charlie. Evelyn was a devoted member of the Daughters of the Nile and the Order of the Eastern Star, becoming Worthy Matron during their years in Nezperce.
In 1984, with their children grown, John and Evelyn moved to Lewiston in anticipation of John retiring from teaching.  They lived many years gardening, golfing and wood working in a house on 28th Avenue, until finally settling in their duplex near the 18th green of the Lewiston Golf and Country Club.  There they golfed, watched Mariner games, and sunsets from their back door.   John and Evelyn also watched out for their son, Paul, who suffered a spinal injury as a teenager and who lived next door. Over the years, their children gave them many grandchildren and great grandchildren.
Evelyn's health began to fail in these last few years, and in 2018, John and Evelyn moved to Brookdale Senior Living Center to make sure she had the care she needed. 
Evelyn was preceded in death by her parents and brother Bernard Ingle and sister Helen (Ingle) Hults.
Evelyn is survived by her husband, John, her stepdaughter, Debra (Jordan) Gibler, stepson John David Jordan, and sons Steven, Henry Paul, and James Jordan; grandchildren Clint, Luke,  and Mac Gibler,  Christina (Jordan) Utecht,  John D Jordan Jr. (JJ),  Bradley Jordan, Cody, Camron, and Cheyenne Harris; Jennifer and Jasmine Jordan.  Evelyn is also survived by many great grandchildren: Mallorie, Makayla, Kendall, Macie, Maddison, Madalynn, Casey, Mackenzie, Sophia, Benjamin, Olive, Roman, Avery, and Jaxn.
  A celebration of Evelyn's life will tentatively be held on Evelyn's ninety-second birthday, June 20, 2020.  The place and schedule to be determined.  We would like to thank the professionals who cared for Evelyn, the nurses, staff, and doctors, at Brookdale and elsewhere.  We are forever grateful.
Service Information
Date & Time

Saturday, June 20, 11:00 AM
Offer Condolences