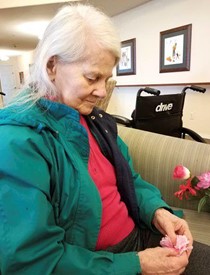 Evelyn V. Wood
11/30/1934 — 12/16/2018
Evelyn Virginia Wood, 84, of Lewiston, died Sunday, Dec. 16, 2018, at Guardian Angel Homes Craftsman House in Lewiston.
She was born Nov. 30, 1934, in Missoula, Mont., to Jacob and Hulda Bekel, and was the oldest of nine children, including Gladys, Dina, Rick, Bill, Shirley, Carol, Joyce and Jake. She retired from work at Washington State University. Evelyn married Howard O. Wood on June 20, 1953, and they divorced in 1981. She was married to Karl Aske until his death in 2013. Her children include Linda, Janet, Sharon, Steven, Jeffrey and many grandchildren and great-grandchildren.
Evelyn was loved by all. She said: "Even though I am not there with you, don't mourn my death. Be happy for I am with the Lord."
You may sign the online guestbook at www.vassar-rawls.com.
Offer Condolences