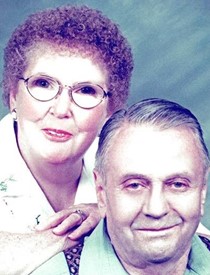 Florence M. Seubert
11/18/1930 — 6/22/2021
Ben Seubert passed away Friday, June 18, 2021, at the age of 98. Florence Seubert passed away Tuesday, June 22, 2021, at the age of 90.
They spent their life together and it should come as no surprise that they would pass away so close together and one week before their 68th anniversary.
Ben and Florence were married June 29, 1953, in Cottonwood. Shortly after being married, they purchased the hotel, bar and café (Royal Room) in Cottonwood. They spent the next 12 years running the hotel and bar, raising five boys, enjoying their family camping trips, hiking and gold mining.
Ben was born March 8, 1923, to Mathias and Mary (Aichelmayr) Seubert in Cottonwood. He was the seventh of eight children. Ben lost his mother when he was 11 years old. At the age of 16, he left home and got a civilian job building a military airport in the Midway Islands. In December 1941, after the bombing of Pearl Harbor, the Japanese bombed Midway Island where Ben was working. This prompted him to join the U.S. Army where he stayed until the end of World War II. He went home and was on active reserves and was then called back to serve for two years in the Korean conflict.
Upon returning home, he began working at Hoene Hardware where he met Florence Beckman, and they later married. Ben was bartender at the Royal Room and helped Florence manage the hotel. Ben went to work at the lumber mill in Elk City for a year and then they moved to Lewiston where Ben went to work at Potlatch Forest Inc. where he was a paper tester until retirement in 1985.
Florence Beckman was born Nov. 18, 1930, to Albert and Agnes (Stubbers) Beckman. Florence was third of eight children and enjoyed her childhood in Cottonwood. She was working at the Hoene Hardware store when she met and married Ben. Florence ran the Hotel with Ben in Cottonwood until they moved to Elk City and then later Lewiston where she enjoyed being a wife and mother. Florence enjoyed singing, camping, cross stitching and gardening.
Ben and Florence are survived by their five children: Donald (Vivian), of Lewiston, Kevin (Donna), of Fresno, Calif., Mark (Sharon), of Lewiston, Steven (Camille), of Lewiston, Jonathan (Colette), of Spokane Valley. They have 13 grandchildren and 11 great-grandchildren. Florence is also survived by her sister Bernie Olander.
Ben was preceded in death by both parents, Mathias and Mary (Aichlemayr) Seubert; three sisters, Mary Connealy, Rose Wadley and Rita Reiner; and four brothers, Joseph, Anton, Alphonse and Paul. Florence was preceded in death by both parents, Albert and Agnes (Stubbers) Beckman; three sisters, Rose Sattler, Dorothy Wensman and Eunice Feucht; and three brothers, Richard, Bernard and Joseph.
Vassar-Rawls Funeral Home is in charge and cremation has taken place. Ben and Florence were members of All Saints Catholic Church, and their faith guided their way. They did not want a service, but a Mass will be read in their honor at a later date. We would like to extend a special thank you to Martha for all her love and compassion also all the care workers at Generations and Hospice for the wonderful care of Mom and Dad during their stay.
Offer Condolences