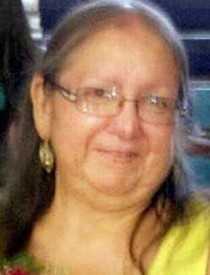 Francoise 'Coy' Marie Swift
12/29/1948 — 5/19/2019
Surrounded in love and covered in prayer by her family, Francoise "Coy" Marie Swift passed away Sunday, May 19, 2019, at Kootenai Health in Coeur d'Alene. Her tremendous courage and grace during her illness was an inspiration to her family and friends.
Coy Kessler was born Dec. 29, 1948, to Rena Katherine Lott (Wetsesa) and Charles Kessler in Lewiston. Clifton "Butch" Ramsey raised and loved her and her siblings as his own children, after he married their mother in 1954, so she called him Dad. Her Indian name was Tamatwayat (Live to Be an Old Woman). She was a member of the Nez Perce Tribe.
Coy was extremely proud to know her Nez Perce lineage traced back to Chief Red Grizzly Bear, Blackeagle, and Wottolen and Wetsesa (her great-grandparents who survived the Nez Perce Conflict of 1877). Her grandparents were Sam Lott (Many Wounds) and Cecelia Showaway Williams (Sunset). Her great-grandfather, Paul Showaway, was the last hereditary chief of the Cayuse Tribe.
She spent most of her childhood years living and attending school in Kamiah. Swimming and hiking in the hills were her favorite pastimes. Besides Coy, or Coy Coy, she also earned the nickname of mácqoy (chipmunk in Nez Perce) since she liked to eat seeds.
She later attended high school in Lapwai, where she would make her home for most of her adult life. Coy was a homemaker, but also was trained and employed through the women in construction program.
Her mother and grandmother raised her to know her tribal culture and to perform musically. They often traveled to Mount Adams in Washington to pick huckleberries. Starting at the age of 4, she performed with her sister, Sandra, as the Kessler Dames at church during Christmas. After much practice, they gave a memorable performance of "Silent Night," so were asked to return for many years.
In 1967, she married James Reuben. They lived for a time in Oakland, Calif., with their daughter, Sunae Kay Reuben. Although their marriage later ended in divorce, they remained committed to raising their daughter together so she knew the love and support of two large families.
On May 15, 2019, she celebrated her 40th anniversary with Oliver "OG" Mason (formerly Swift), originally from Taholah, Wash. They were officially married in 1982 after her fiancee OG and sister Sandra devised a plan to get her to "dress up" before ending up at the courthouse for a surprise wedding. OG and Coy would have many similar adventures in their time together. They loved to enjoy life with the simple pleasures of dancing, looking for eagles and driving their favorite route they called "the loop" (Lapwai to Cottonwood Creek to Talmaks to McCormack Ridge).
Spending quality time with their family and friends was very important to them. In 1984, they welcomed their second daughter, Cheyna Cecelia Swift, into the family.
Proverbs 17:6 says, "Children's children (grandchildren) are the crown of the elderly, and the glory of children is their parentage (parents)." This statement fits Coy perfectly because her grandchildren, Arika Marie Reuben (her No. 1) and Amrin, Raul and Danielle Montanez (her piggies) brought tremendous joy and fulfillment to her life. OG and Coy were also proud of their four grandsons from the Quinault reservation. Coy's hope for her grandchildren is for them to be happy and to know their qa'aca (maternal grandma in Nez Perce) will love them always.
Coy is survived by her husband, OG, in the family home; daughter Sunae Reuben and her daughter, Arika Reuben, both of Lapwai; daughter Cheyna Swift and her children, Amrin, Raul and Danielle Montanez, all of Lewiston; sister Rosa (Jon) Yearout of Sweetwater; sister Sandra Pena of Kamiah; and numerous cousins, nieces, nephews and their children.
She was preceded in death by her parents, Butch and Rena Katherine Ramsey; grandfather Sam Lott; grandmother Cecelia Showaway Williams; brother James Higheagle; four siblings who died as infants: Sammy Kessler, Julius Broncheau, Simon Lott and Ardella Almighty; daughter Amelia McMinds; son-in-law Daniel Montanez; and nieces Beverly "Candy" Higheagle and Shelly Higheagle.
The holy rosary will be recited at 7 p.m. today at the Sacred Heart Catholic Church in Lapwai. This will be followed by memorial services at 7:30 p.m. The funeral Mass will be celebrated at 10 a.m. Thursday at Sacred Heart Catholic Church in Lapwai. The Rev. Brad Neely of All Saints Catholic Church in Lewiston will be the celebrant. Burial will follow at the Coyote Cemetery near Spalding, followed by dinner at the St. Kateri church hall.
Vassar-Rawls Funeral Home of Lewiston is in charge of arrangements.
Service Information
Date & Time

Thursday, May 23, 10:00 AM

Location

Sacred Heart Catholic Church
205 Birch Avenue E
Lapwai, Idaho 83540

Get Directions

Additional Details

Rosary will be held on Wednesday at 7:00 p.m.
Offer Condolences