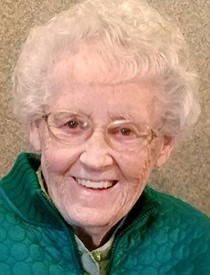 Frankie M. Anderson
1/26/1927 — 11/12/2020
On Thursday, Nov. 12, 2020, Heaven gained a new angel to his flock. Frankie Anderson was a beautiful soul who loved her family fiercely, cherished her friends and acquaintances and was always giving and doing so much for other people.
On Jan. 26, 1927, Frankie and her twin sister, Jackie, were born in Winlock, Wash., to Guy and Rhoda Inch Wall. It was a snowy, windy winter day. Jackie weighed in at 9 pounds and Frankie weighed in at 7 pounds. In those days, they had no idea her mother was giving birth to twins. What a surprise. She was christened with the name of Franklyn May Wall and her sister Jacklyn Jean Wall, and they went by Frankie and Jackie.
Jackie had no problems with her name, but our mom did. When she was in high school during World War II, she was worried for fear she would get a draft notice because of her name. She always said her first name caused her problems most of her life.
Frankie and Jackie grew up in Winlock and graduated from high school May 25, 1945. Those were wonderful years for her and her sister. Frankie was a drum majorette and cheerleader during her high school years. In June of that year, her mother was diagnosed with leukemia and spent 5½ months in the hospital. The day after WWII ended, her dad was killed, and in November, her mom passed away. The girls were just 18 years old and their lives completely changed. Thank God they had aunts and uncles and two grandmothers to help them through those difficult times.
After graduation, she went to work for National Bank of Washington until 1950. In 1950, she moved to Lewiston, and in 1957 went to work for Pacific Northwest Bell in the business office. She retired from the telephone company in 1982 with 25 years of service. She was active in the Whitman PTA, and served as a Precinct Committee lady for four years for the Democratic Party. Frankie was a very proud Democrat and loved making her brownies to sell at their annual picnic. She always let us kids know how much they paid for her brownies.
Frankie was also a member and officer in the Telephone Pioneer organization. After retirement from the telephone company, she started another career in 1983. She joined the St. Joseph Regional Medical Center Auxiliary, also know as the "Pink Ladies," and retired in May 2015. Upon retirement, she had 19,800 volunteer hours during her career. She spent a majority of her years in the Gift Shop and loved working with the other Pink Ladies and meeting all the customers.
Survivors include one daughter, Mary Jayne Minnette, and husband Jim Minnette; two sons, Tom Anderson and Danny Anderson, all of Lewiston; grandchildren Molly Minnette, Mitch Minnette, Travis and Daniel Port, Micah and Cameron Foster and Jade McKenna; great-grandchildren Isaiah, Kendric and Ariel Bailey, Maggie and Amelia Minnette, William, Lincoln and Lane Port, and Gabe and Mia Foster. She is also survived by several nieces and nephews and a sister-in-law.
She was preceded in death by her parents in 1945 and her twin sister in 1985. She was the last member in her family on both sides, a story she loved to tell. Donations can be made to: St. Joseph Regional Medical Auxiliary, or First United Methodist Church in Lewiston.
Our family would like to thank Brookdale Senior Living for the wonderful care they provided for Mom these past six weeks. They cared and loved our mom, especially when we weren't allowed to be there. We are forever grateful. We would also like to thank Doris Ziegeldorf, mom's doctor for several years. She provided Mom with wonderful care through the years.
A graveside service will be held at 2 p.m. Friday at Lewis-Clark Memorial Garden.
Service Information
Date & Time

Friday, November 20, 2:00 PM

Location

Lewis-Clark Memorial Gardens
3521-7th Street
Lewiston, Idaho 83501

Get Directions
Offer Condolences